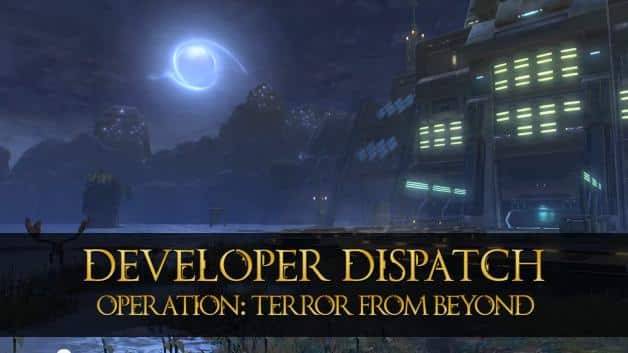 Game Update 1.4 is coming soon and with it one of the most dynamic and difficult Operations in Star Wars™: The Old Republic™. SWTOR is changing for the better and with free to play on the way, we are also seeing updates that are slowly bringing out things the game will end up with in F2P mode.
Game update 1.4 is highly anticipated and the time is nearly here. Are you wondering more about what you can expect? We have a great video/trailer with a sneak peak of Terror from Beyond straight from the developers themselves.
BioWare tells us more about it in this official news post:
In "Terror from Beyond", you will be called upon to face a mysterious new threat that has emerged from one of the most obscure places in the galaxy: the Gree planet of Asation. The Gree have been safeguarding ancient technologies on the planet for centuries, but seemingly on its own one of the technologies, called a "Hypergate" has been activated. Terrible creatures have begun emerging from this Hypergate, and the Gree fear the worst is yet to come. You must travel to Asation, close the Hypergate, and defeat whatever evil it has unleashed. Get ready to face the most challenging enemy yet. A true Terror From Beyond!
Check out the video and tell us what you think!