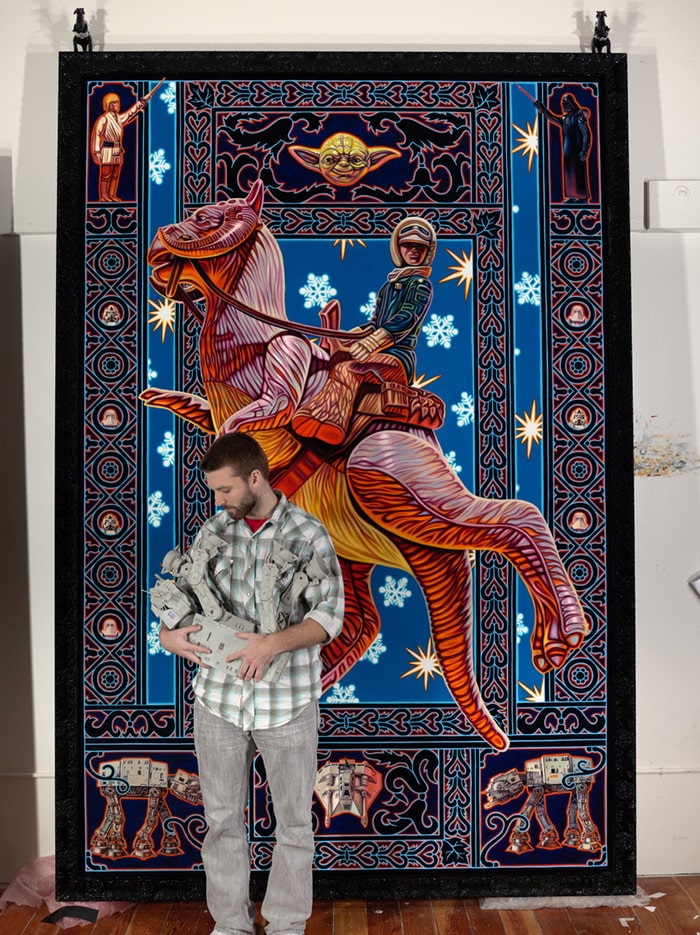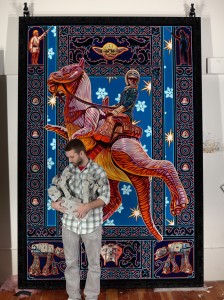 Artist Rob Burden is itching to create epic oil paintings of vintage Star Wars action figures. How about a 10-foot Hoth scene in your living room? It would make a great addition to a personalized man-cave or maybe to your home theater room. But if you're looking at getting this type of one-of-a-kind art for yourself, you better have deep pockets.
Or you could hire this guy who does this for fun- Rob Burden. The San Francisco artist is so obsessed with his old "Star Wars" figures that he does 10-foot-tall oil paintings of them. Wow… that's passion and dedication (and I wish I had his talent). Hi work doesn't portray the characters from the movie series but instead, the action figures that many of us remember and love from our childhood. Do you still have any old Star Wars action figures lying around?
This is really amazing artwork and it's like a favorite piece of our past brought to life. The artist has taken his passion to a new level with a Kickstarter project with a $24,000 campaign to produce two enormous 10×14-foot "Star Wars" canvases.

I am determined to create my dream Star Wars action figure paintings. If I can raise my funding goal I will create my most ambitious project yet: 2 epic 10 foot x 14 foot oil paintings.
The Goal of the Project
And he even wants you to help!
In addition to being able to help fund the project (and receive thank you gifts for the different funding levels), you can also help by voting for your favorite Star Wars character, vehicle and creature. On his Facebook page, he tells you how and why:
Each painting will depict dozens of different toys from the Star Wars universe. But I want you to help me determine the central subject of each painting. In one painting a character toy will be the central subject. In the other painting a vehicle toy or creature toy will be the central subject. On my Facebook page you will be able to cast your vote for your favorite Star Wars toys in two separate brackets. (www.facebook.com/robert.burden.art)
On the Kickstarter campaign, he also explains the costs involved in such a project:
The Costs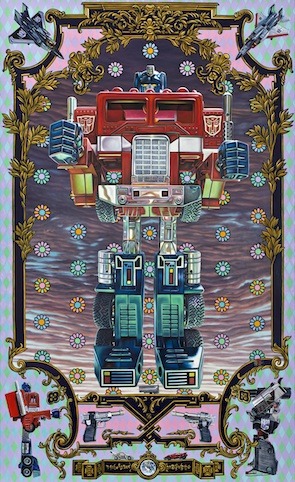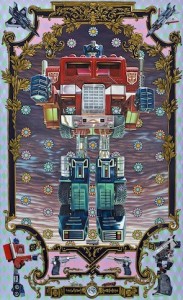 Creating labor-intensive paintings at this scale will truly be a massive undertaking. I have dedicated the past 7 years of my life to this body of work, and have already created more than 20 large-scale paintings depicting the action figures of my youth. But I now need your help with my most ambitious project yet!
These are the general costs:
oil paints
brushes
additional action figures
canvas
custom expansion bolt stretchers
woodworking
mould making
Uhaul transportation
art photography
framing
studio rent

Check out more of Burden's art, featuring characters from "He-Man," "ThunderCats," and other shows, in his gallery here. And goes on to explain why he does this (like you have to explain it to us, right?) It's really quite an amazing feat and we cannot wait to see it all finished. In the meantime, if you like what he's doing, head on over and vote or donate today!