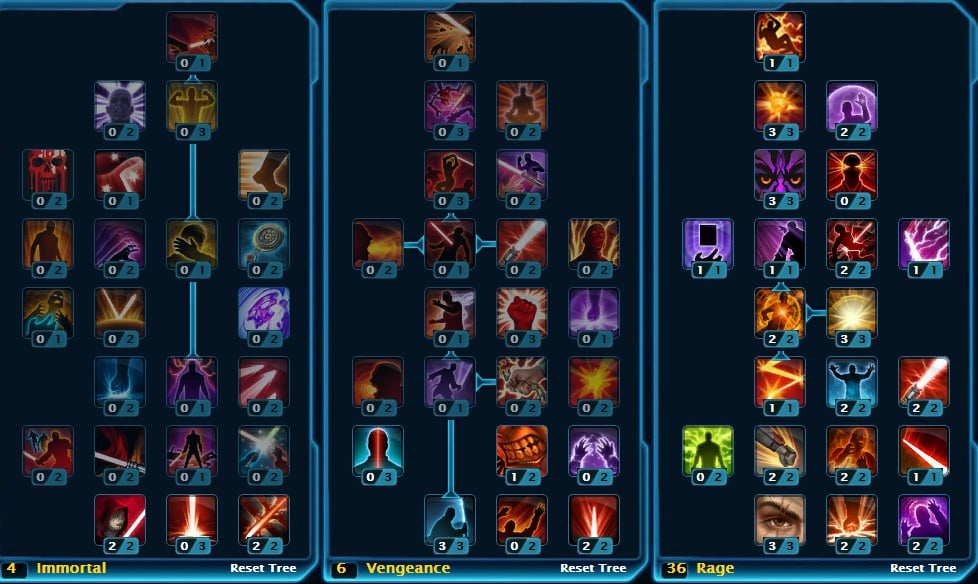 Here we are again with a build from www.swtorsavior.com and this time they have bought us an Sith Warrior Juggernaut PVP Build. The Sith Warrior Juggernaut PVP builds listed below, focus on talents and abilities with potential for either sustained or burst DPS in combination with utility and adaptability. These Sith Juggernaut builds perform best in a Warzone or other group PVP setting.
3/3 Malice
2/2 Decimate
2/2 Battle Cry
2/2 Strangulate
2/2 Overpower
1/1 Brutality
2/2 Saber Strength
2/2 Oppressor
1/1 Obliterate
2/2 Dominate
3/3 Shockwave
1/1 Force Jump
2/2 Shi-Cho Mastery
1/1 Force Lash
1/1 Gravity Manipulation
3/3 Dark Resonance
2/2 Force Resistance
3/3 Cascading Power
1/1 Force Crush
3/3 Single Saber Mastery
2/2 Improved Sundering Assault
2/2 Enraged Sunder
2/2 Ravanger
1/2 Dreadnaught
Stat Priority
Expertise > Strength >  Power > Surge  > Crit
As always I I will recommend you to get the guide to get the full advantage of all swtorsavior.com amazing features. It is available right here.