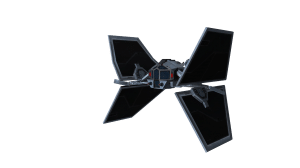 This time swtor_miner has brought us some incredible data mined info but this is the kind of stuff Bioware staff really don't want us to find. Before you read any further, be aware that this will contain major spoilers and some players just prefer not to know at all. If that's you, then click away and don't read what was found about the super secret space project coming up in SWTOR:
DO NOT UNDER ANY CIRCUMSTANCES POST ANY OF THIS INFORMATION TO THE OFFICIAL FORUMS. THE POSTS WILL BE REMOVED AND YOUR ACCOUNT WILL BE BANNED.
IT HAS HAPPENED BEFORE. YOU HAVE BEEN WARNED!!!!
Previous: Preview #1
Today I spent several hours and rewriting my adapted modelviewer to work more easily with the new ship models. I cut down the time necessary to prepare models by at least 90%, if not more. Then I spent a few hours (see below) toggling options and exporting images.
In the end, here's what I ended up with:
Some notes on these models. It became apparent that several ship classes are nowhere near complete. Some of them also seem to require mirrored models, and I haven't figured that out yet.
If a variant is missing attachment screenshots, either they don't have them yet, I can't find them, or they borrow them from a similar ship in their class.
---
Now, smack dab in the middle of taking images of the ships I run in to this ship here. This ship is different from all the other ships, in that it has no base model (at least that I could find). Instead it's made up of bunch of sub-models labeled "imp_scout_a_dmg_0x".
Honestly I was scratching my head, but then I noticed that many of the sub-models were damaged! This looks like a test model for a visual ship damage system. It has a bent wing, engine askew, bent struts, and it looks like it has attachment points for visual effect trails.
It could be an abandoned test, or a peek at how indepth the visuals might be. We'll find out eventually!
---
Someone asked me about space pvp group sizes, but I came up empty searching for that information.
I'm going to be taking tomorrow night off from mining, and actually play the game for the first time this week! I'll get back at it sometime next week.
Until then, May the Force be with you!
edit: whoops forgot the striker variants. fixed now!
—
So what do you think about this "super secret" space project after this data mined information has been leaked?