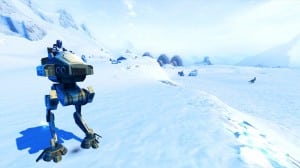 We love to bring you updates from the Community Cantinas that take place in various cities across the map. There is always new and exciting fun to come out of these events and of course, we can't forget the flash drive goodies. So the Q&A of this Community Cantina was with Eric Musco and you can find a full write-up of that here on 42gaming.com. You can also listen to the video below (audio only).
Here is a snippet:
Question:
When will we know the rewards for Ranked PVP Season 2?
Answer:
"We do not like to present the rewards and requirements till at least halfway through the Season"
Question:
Will classes be able to use weapons that are not intended for the class, i.e Jedi using a blaster?
Answer:
No, one of the reasons is to allow others to identify the enemy's class in PVP.
Question:
Will there be a Dual Spec or Armor Switch upcoming in the game?
Answer:
"As players we would like to see it added, but not anytime soon. It is on the wall of crazy."
There was also some Q&A with Jack Wood, Producer of Strongholds and Andrew Horwitz, Associate Producer of SWTOR.
Commentary from the uploader of the audio:
"A recording of the community Q&A during the cantina. Quality is definitely listenable! Please ignore comments between me and my boyfriend – I'm very excited and not very lorewise. Comments made about certain players being hutts were purely in jest."
Take a listen for yourself!
And if you want to see the goodies on the flash drive from the Los Angeles E3 Cantina Tour, Dulfy has outdone herself again, bringing us the latest and greatest. Here are a couple. See the rest at Dulfy's site.
You can see even more pictures here on the Star Wars The Old Republic Facebook page.