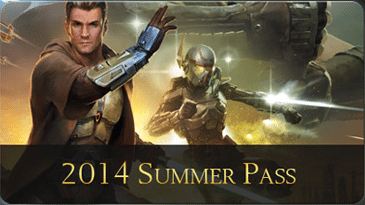 With summer comes great things for gamers and the SWTOR Summer Pass is a fine example of that! For a limited time only, if you're not already subbed to SWTOR, you can get a pretty decent discount on a 4-month sub with this summer pass.
The 2014 Summer Pass is on sale until June 30th and you can save 33% over the standard monthly cost of a subscription for four months.
Here's what you get with the summer pass:
Save 33% over the standard monthly cost for four months of subscription – one-time payment of $39.99USD / 23.99 GBP covers all four months
Get unlimited game access to exciting story missions, galactic adventures and more
200 Bonus Cartel Coins to spend on valuable collectibles, XP Boosts, mini-pets and more at the in-game Cartel Market
If you're looking to bring in some friends and family to play with you, to get a discount on your own game and Cartel Market goodies, or even if you wanted to come back to SWTOR after some time off, then this is a great deal to take advantage of.
Let's break it down and see if it's really worth it:
4 months of 500 CC per month = 2000 CC.
You get 200 so you are missing out 1800 CC.
1800 CC is about $15 if you go with the 2400CC for $20 deal or $13 if you go with the 5500 for $40 deal.
$40 + $13 or $15.
4 Months of subscription = $60. It is still cheaper to buy this deal and 1800 CC than subscribing for 4 months.
*Keep in mind, offer is not valid for active Subscribers.
*TERMS AND CONDITIONS
The Summer Pass offer is valid for all players without an active subscription to Star Wars™: The Old Republic™ through June 30, 2014, at 11:59PM PDT / July 1, 2014, at 6:59AM GMT.
The Summer Pass is a one-time, non-recurring purchase of $39.99 USD and immediately adds 120 days of continuous subscription time to your SWTOR account. 200 Bonus Cartel Coins will be added to your account within 72 hours of your purchase.
Summer Pass Subscribers receive all Subscriber benefits and rewards, but do not receive monthly Complimentary Cartel Coin grants. They are granted 200 Bonus Cartel Coins within 72 hours of purchasing the Summer Pass.
As an active Subscriber, you are not eligible to purchase a SWTOR Summer Pass. The Summer Pass offer is valid for all players without an active subscription to Star Wars: The Old Republic.