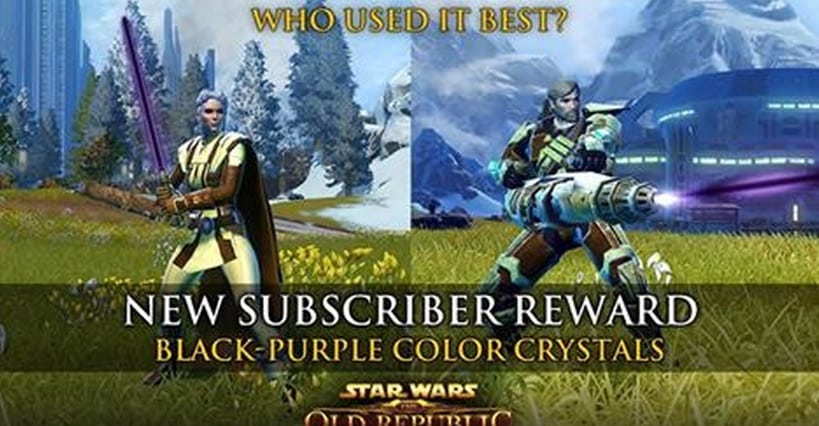 All subscribers of Star Wars: The old republic, that has a active membership onMarch 29, 2015 will received an exclusive Black-Purple Color Crystal.
Here are the details:
As part of the Choose Your Path promotion, we're giving away an exclusive set of four Advanced Black-Purple Color Crystals to thank all of our Subscribers on March 31, 2015!
Be a Subscriber as of March 29, 2015* and give your Lightsaber blades and blaster bolts a new dark purple color along with a +41 boost!
Advanced Black-Purple Striated Eviscerating Crystal (+41 Critical)
Advanced Black-Purple Striated Indestructible Crystal (+41 Endurance)
Advanced Black-Purple Striated War Hero's Crystal (+41 Expertise)
Advanced Black-Purple Striated Hawkeye Crystal (+41 Power)
* ACCOUNT MUST BE IN AN ACTIVE SUBSCRIPTION STATUS ON MARCH 29, 2015 AT 11:59PM PDT / MARCH 30, 2015 AT 6:59AM GMT. ITEMS DELIVERED VIA IN-GAME MAIL ON OR AROUND MARCH 31, 2015.