SWTOR Developers from BioWare and guest will be showing off Chapter 1 The Hunt from the upcoming expansion  Star Wars: The old Republic Knights of the Fallen Empire on Sept 25 and 26.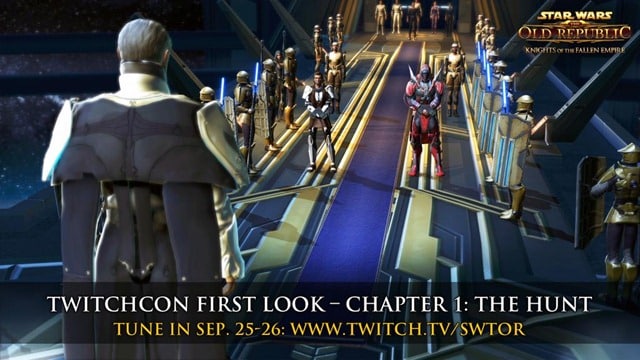 Fallen Empire @ TwitchCon
WHEN: Thursday, Sep. 25th – Friday, Sep.26th (10AM – 6PM PDT / 5PM – 1AM GMT)
WHAT: Join developers and guest streamers for a first look at Chapter 1: The Hunt in Knights of the Fallen Empire!
Don't miss the dramatic opening of the Outlander storyline and prepare to embark on an iconic story-driven adventure your choices determine the fate the galaxy!
Guest Streamers include: Towelliee, LobosJR, Lulaboo,ZombiUnicorn, LadyInsanity,JoblessGamers, Aureylian and more!