Want to add some Star Wars flair your drive to work in the morning? Why not take C-3PO on as your copilot? 3PO, R2-D2, and BB-8 can now be a part of your drive with Waze, the social driving app. Your own personal protocol droid will give you directions, warn you of hazards, and occasionally surprise you with a hilarious line.
For example, when I was driving this morning, Waze detected a hazard, and 3PO came on over my radio: "Hazard reported ahead. We'll be destroyed for sure . . . this is madness!" I laughed out loud. In my car. By myself.
When I got home, C-3PO gave me his opinion on my apartment complex in his signature British accent: "My . . . what a desolate place this is." I had to smile at that one. But he doesn't just talk when he has something to tell you. He'll also give you directions using your GPS. And he's very polite about it: "In half a mile, please turn left." "In zero point one miles, turn right, master."
C-3PO isn't the only one to show up in the app, though. If you watch the map carefully, you can find R2-D2 and BB-8 hidden around your town. I haven't seen them in Denver yet, but I'll be keeping an eye out to see if I can figure out where they're hiding! There are stormtroopers, lightsabers, and—my personal favorite—TIE fighters hanging around for you to find, too.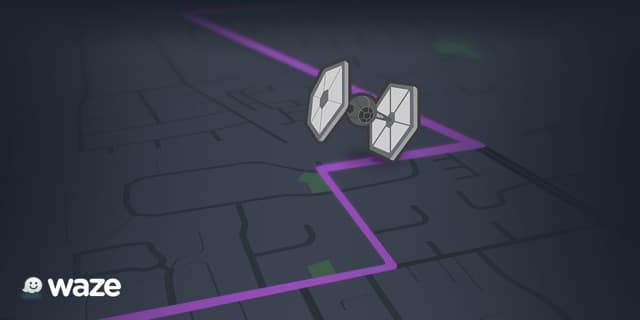 Waze isn't just about adding Star Wars to your commute, though—it's actually a really useful app in its own right. It's community-driven, and uses data from other users to highlight bad traffic, give you information on road conditions, warn you of hazards, and even track gas prices so you can save money when you fill up.
One of the most useful features of Waze is that community members can edit the maps, so road construction or a new traffic pattern will show up in the app soon after it happens instead of whenever the app provider gets around to updating it. All of these things are displayed with easy-to-decipher icons on the map, so you can identify whether your route is the best one or if you should go another way.
Waze is free, so there isn't much of a downside to downloading it and checking it out. The Star Wars voices come standard with the app, so all you have to do is activate them and start driving! You'll have C-3PO, R2-D2, BB-8, Stormtroopers, TIE fighters, and lightsabers to keep you company on your drives. Even if C-3PO will tell you that you'll "never get me onto one of those dreadful starships."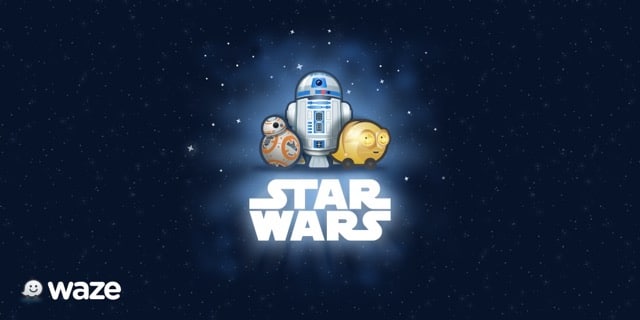 Now, onto the part you've been waiting for: the movie ticket giveaway. One of our readers will receive $30 Fandango gift certificates to go see The Force Awakens, courtesy of Waze, to celebrate their new in-app experience. All you need to do is leave a comment on this article. At the end of this week (on Saturday, December 5), we'll pick a commenters to receive gift cards. That's all there is to it. Watch our Twitter feed for another giveaway son!
May the Force be with you—and let us know if you find R2 or BB-8 in your hometown!