The Force Awakens has topped Avatar as the highest-grossing film in North American history, so it's almost certain that you've already seen it. And now that you have, what comes next? Rogue One is still almost a year away, and we still don't know much about it at all, so there's nothing much exciting there.
There is, however, a monumental amount of books and articles that you should read. Whether for interesting theories, backstories, or just more Star Wars fun, this list will keep Star Wars going all year.
Books to Read After The Force Awakens
Everyone needs more books! Here are 10 that you should read to get all the backstory, fun facts, and new stories that you need.
Star Wars: The Force Awakens Visual Dictionary by Pablo Hidalgo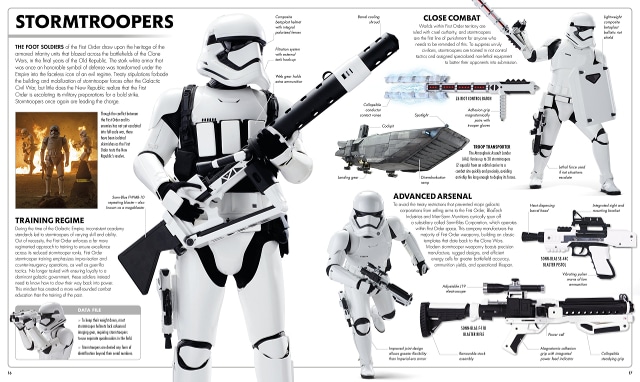 Want to get more story on the characters, places, ships, vehicles, and weapons used in The Force Awakens? This visual dictionary has a lot of great information, including background information that wasn't shared in the film. It's filled with high-quality images, too, so it makes a great coffee table book (as most DK books do!).
Buy it now on Amazon for $11.99
The Art of Star Wars: The Force Awakens by Phil Szostak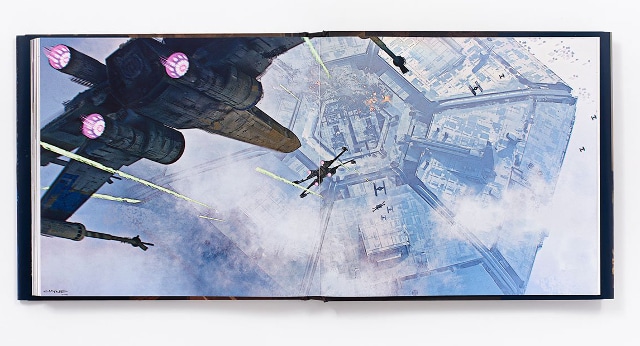 Another fantastic coffee table book, The Art of Star Wars: The Force Awakens contains concept sketches, storyboards, paintings, blueprints, and interviews with the creative team, all of which give you a look inside the creative process behind TFA. If you're ever feeling the need to jump back into the Star Wars universe, this stunningly gorgeous book will get you there.
Buy it now on Amazon for $23.84
Star Wars: The Force Awakens Incredible Cross-Sections by Jason Fry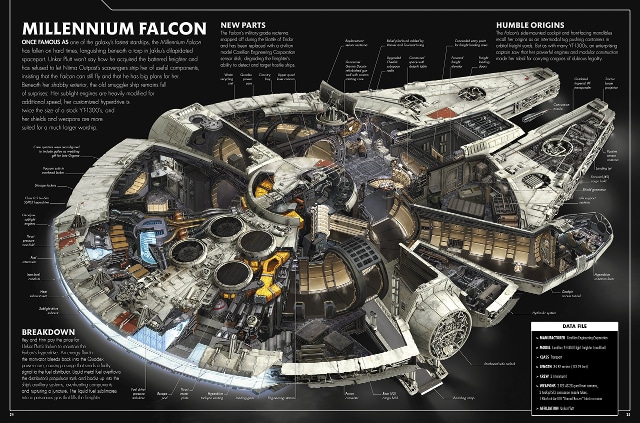 If you've never read an Incredible Cross-Sections book, you're really missing out. The Force Awakens entry in the series shows you the inner workings of Poe's X-Wing, the Millennium Falcon, the Special Forces TIE Fighters, the Finalizer, Rey's speeder, Han's freighter, and more. If you don't have it already, be sure to check out the Incredible Cross-Sections Ultimate Guide to Star Wars Vehicles and Spacecraft, too.
Buy it now on Amazon for $12.32
The Force Awakens novelization by Alan Dean Foster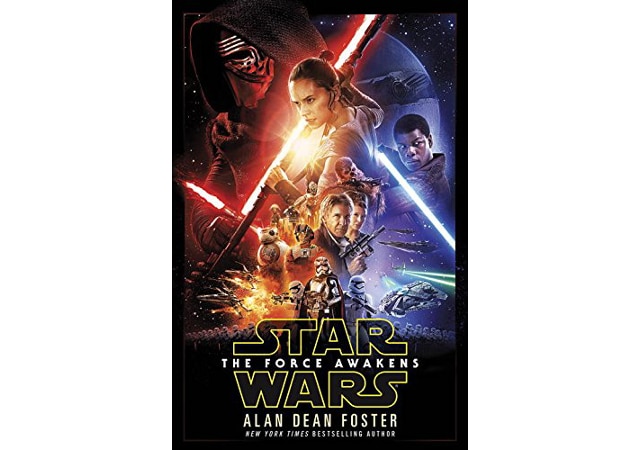 Although it tells the same story as you saw in the movie, there's something different about reading it, and the book actually includes some extra details that weren't included in the movie. Reviews indicate that some people enjoyed them, while others thought there wasn't nearly enough background information. Either way, if it lets you relive the film without spending $20 or $30 to go see it a fourth time, it seems like a good way to go!
Buy it now on Amazon for $16.80 ($13.99 on Kindle)
Aftermath by Chuck Wendig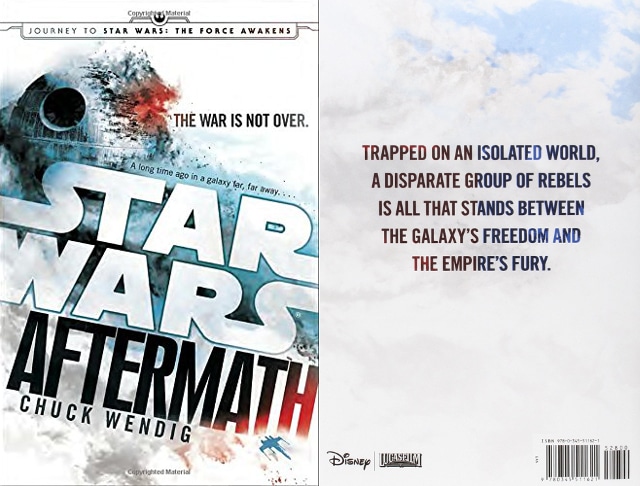 As part of the Journey to the Force Awakens collection of books, Aftermath was read by a lot of Star Wars fans when it came out in September. Although some people didn't like it very much, it received generally positive reviews and will give you an idea of how the galaxy came to be the way it is after the Battle of Endor. It's the first book in a forthcoming trilogy, so you won't get much closure from this novel, but it's worth a read.
Buy it now on Amazon for $16.80 ($13.99 on Kindle)
Shattered Empire by Greg Rucka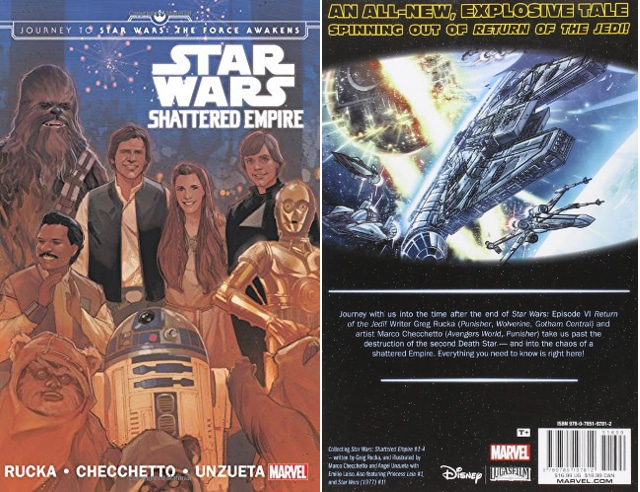 Marvel's four-issue Star Wars comic series that bridges the gap between the Battle of Endor and TFA has finally been collected into a single volume, and you can get it for about $10. It's hard to say no to that! Reviews are quite mixed, but it's not like you're taking a huge risk in spending the equivalent of two Starbucks lattes on a Star Wars comic. You know it's going to be fun.
Buy it now on Amazon for $10.84
Before the Awakening by Greg Rucka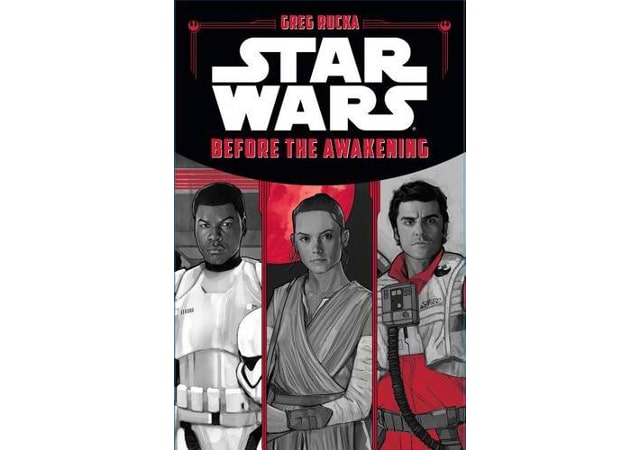 Despite being a children's book, this collection of three short stories has gotten pretty good reviews from adults, as it sheds some light on what Finn, Rey, and Poe were doing before the events of The Force Awakens. You won't get answers to all of the questions you have about them after seeing the movie, but it might help you get an idea of why they came to be who they are.
Buy it now on Amazon for $8.73
Ultimate Star Wars by Ryder Windham, Adam Bray, Daniel Wallace, and Tricia Barr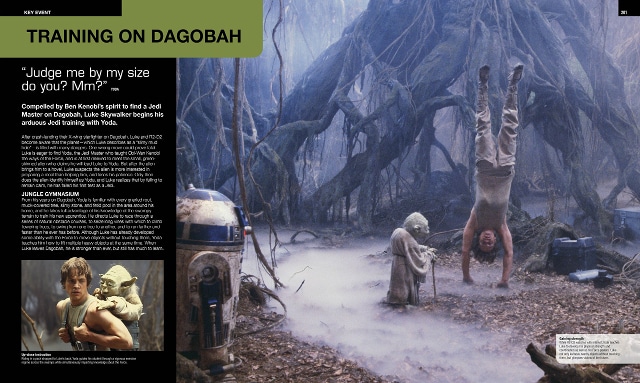 A guide to anything and everything from the original and prequel trilogies, Clone Wars, and Rebels, Ultimate Star Wars won't give you any insight into TFA, but it's an absolute must-read for any true Star Wars fan (especially if you haven't watched either of the TV series). Another cool coffee table book, this is a great one to pick up when you wish you were tearing around the galaxy in an X-Wing (or, if you're like me, a TIE Fighter).
Buy it now on Amazon for $26.49
LEGO Star Wars Character Encyclopedia by Dorling Kindersley Publishing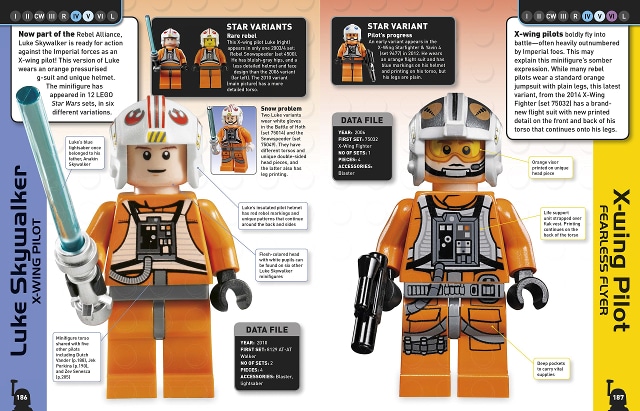 Let's face it: we in the Star Wars community are nerds. Which is one of the reasons why we absolutely love Legoes. Star Wars Legoes have a long history, from the first sets released in 1999 to the recent TFA sets—there are even a bunch of Lego Star Wars video games. If you're into the buildable side of the Star Wars universe, this book will keep you reading for hours; it contains information on all of the Star Wars minifigures available, with comments about rarity, different variants, and available sets.
Buy it now on Amazon for $13.67
Bonus: The Force Awakens Articles
Those books should keep you occupied for quite a while, but just in case you want to get started right away, here are a few articles you should read, too:
Only 343 Days Until Rogue One…
We have to wait until December 16 for more Star Wars movie action, but there's plenty of reading to keep you busy until then. Check out the books and articles above, and re-read your favorite Star Wars books this year! In fact, let us know in the comments which are your favorites so we can check them out, too.