I have always loved custom computer builds and I've seen a few over the years with Star Wars themes. This one, however, tops them all. You probably can't even tell from initial photos that there is a PC inside this Star Destroyer.
You can see full details of the entire build here. This post, "YAZI" – Venator Class Star Destroyer The BIG finale part 1, explains in detail how it all came together, along with this explanation:
"Ok so here is the big finale (wel part 1 of it at least)
Due to the fact that MSI asked if they could showcase the YAZI at the International CES 2016 in Las Vegas the whole time table changed.
I am very strict op planning, its the only way to get stuff done fast, but this was ridiculous. The call came in about a week before the cutting of the aluminum, hence the reason why Pascal and I worked untill 3 am to get it sorted.
I proved not to be the last day I was up untill late !"
It's really amazing, impressive craftsmanship that has gone into this. The pictures themselves don't even do it justice, I'm sure. A lot of the parts were made with a 3D printer (and those who know me will note that I am a HUGE fan of 3D printing). Other parts were made by hand. While it looks like a lot of hard work, I think it'd be totally work it, without a doubt, to have this awesome piece of art as your PC case! This thing is huge though so it's going to need a big area to display it. I'm guessing this is not going to work well on your average desk. But an average piece of furniture wouldn't work for a masterpiece like this anyway.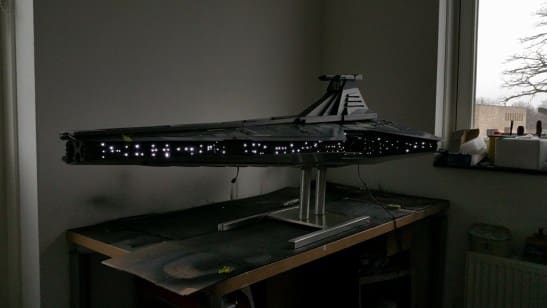 This photo above really shows you how awesome the lights are.