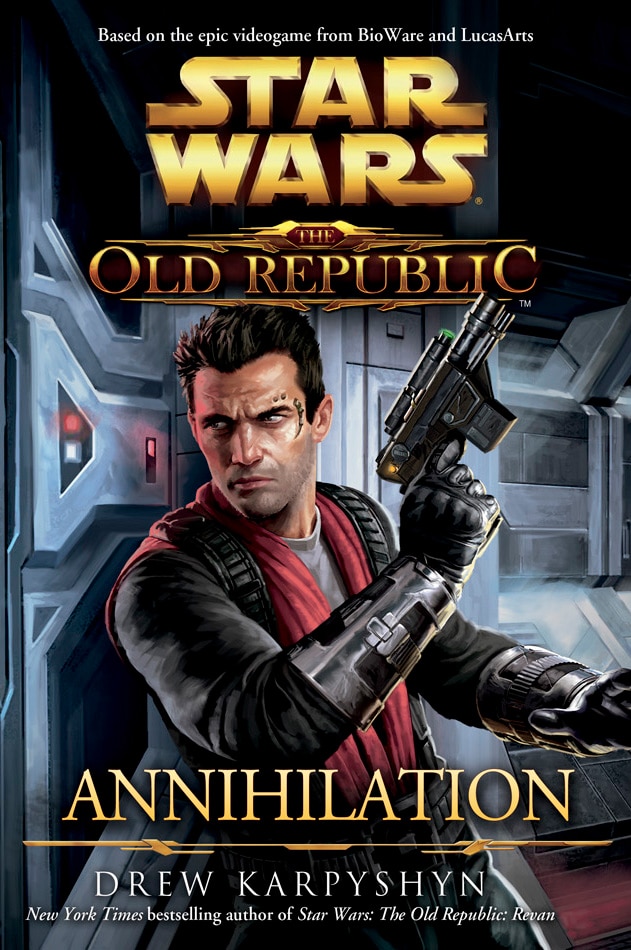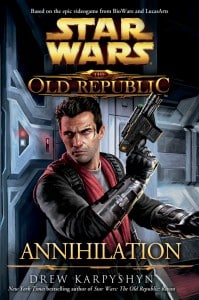 Star Wars: The Old Republic: Annihilation from New York Times bestselling author (and Star Wars™: The Old Republic™ writer) Drew Karpyshyn was revealed at last year's New York Comic-Con and scheduled to be released in November 2012. It's his second novel and now the cover has been officially revealed.
In addition to the cover image reveal,  SWTOR.com brought us a great interview with Karpyshyn about the new book.
*SPOILERS AHEAD*
Here's a snippet of the interview:
Do you recommend that people finish their storylines in Star Wars: The Old Republic before picking up the book?
Annihilation is set after the events of the class stories in Star Wars: The Old Republic, so there are things that I reference and mention that may serve as spoilers to people who haven't finished the storylines. The balance of power between the Empire and the Republic has changed quite a bit by the time the class storylines in SWTOR are done, and the galaxy is a very different place.
The main protagonist of your novel is Theron Shan, who was featured in the comic book series, Star Wars: The Old Republic: The Lost Suns. Can you give us a bit of background on him and his relation to the rest of the Star Wars: The Old Republic universe?
Theron is Satele Shan's son, though she gave him up at birth to be raised by her Mentor, Ngani Zho. He's also a descendant of Revan and Bastila Shan from Star Wars: Knights of the Old Republic game. However, Theron isn't attuned to the Force and he isn't a Jedi – he's actually one of the top field agents for Republic Strategic Information Services. This gives him a slightly different perspective on the galaxy and life in general.
I, for one, am pretty excited about it. I'm a fan of Star Wars lore and a fan of Drew's writing. November is still pretty far away but I expect that as we draw closer, they will continue to offer sneak peeks into the book. Maybe we'll get a couple of bonus chapters like with the last book. We'll keep you updated!