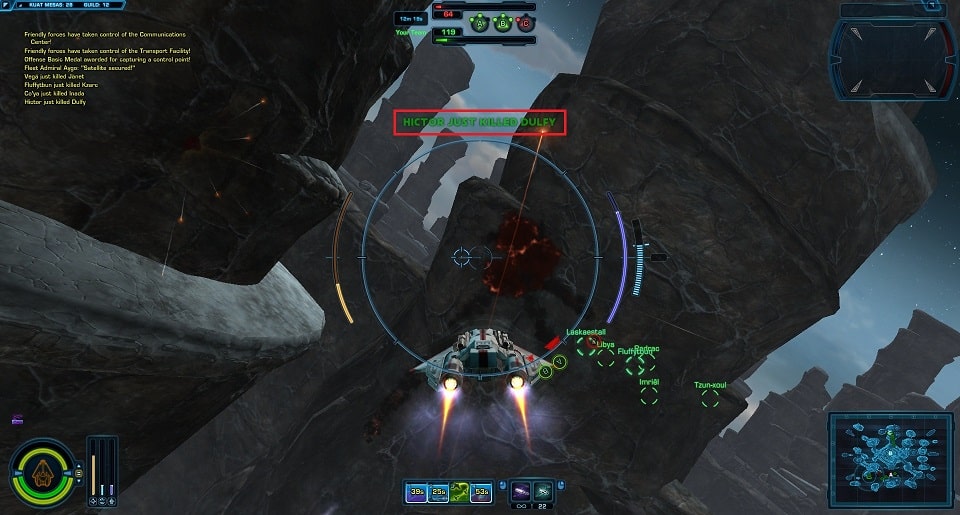 Only 1 of these GS bugs is seriously affecting gameplay on a mechanical level. The rest are tooltips or cosmetic.
Galactic Starfighter
General
When in Galactic Starfighter all audio can completely turn off, the issue is resolved as soon as you leave Galactic Starfighter.
Attempting to change graphic settings while dead may prevent players from being able to queue for respawn successfully.
The Cinematics button on the Character Selection screen does not function at this time.
All Sensor Dampening upgrades are currently limited to 15k meters.
Ship Mastery icons do not explicitly state the amount of Requisition bonus gained by their use. (10%)
Chat
Players of the same faction may occasionally see chat messages from other Battles.
Cosmetics/Cartel Market
After unlocking any "Gas Canister" or "Chemical Reactant", the player can no longer re-select the standard (e.g. "None") cosmetic options.
Some cosmetics options, when previewed for purchase, will display a different ship model than what is described/shown in the Cartel Market. The item will still function correctly once purchased.
Preview Panel for Galactic Starfighter items is improperly labeled as a "Character Tab".
Hangar
If the player presses the "ESC" key while dragging a ship loadout icon, the icon will become attached to the game cursor until re-log.
Rapidly clicking Components within the Hangar can result in weapon preview effects looping improperly. Workaround: Close and reopen the Hangar.
The TZ-24 Enforcer improperly shares the same component icon between its two Primary Weapons. Mastered Ships do not display their gold ship icon as intended in the "Select Your Ship" interface.
The Ship Preview Window does not currently update previewed (but unpurchased) Components when the Crew Tab is first clicked.
Combat
Debuff icons may not appear properly for targets on the Targeting Computer when attacking multiple ships with the same debuff-applying weapon. Note that these debuff effects are still being applied to enemy ships properly.
The Munitions Capacity Extender minor component is currently providing slightly less of an ammo boost than the described 20% increase.
Damage Over Time effects applied to shields will always apply to the shield arc closest facing the attacker, rather than the arc it was originally applied to.
Crew
Passive Crew Ability "Depth of Field" does not currently extend your sensor focus range by 2500m.
Tooltips
Co-Pilot ability "Nullify" tooltip improperly states that it "reduces the amount of damage done to the hull", which is incorrect. This ability instead buffs the "damage reduction" stat for ships.
The "Improved Firing Arc and Tracking" upgrade for Light Laser Cannons and Rapid-Fire Laser Cannons do not update tooltip values properly. Note that these upgrade bonuses are still being applied to these components correctly.
Tutorials
The "Battle Type – Domination" tutorial will not be marked as "read" in the Tutorial index until the user relogs.