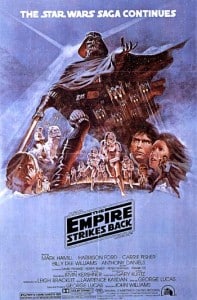 The Empire Strikes Back has topped a poll of the greatest movies of all time. I can't say that we are really all that surprised at this news. Despite the beef that some people have with the movie, it is still a classic. It's a part of pop culture and you'd be hard-pressed to find someone today who doesn't at least know of the movie.
The movie, which came out in 1980, beat over 301 other titles in Empire magazine. Yahoo! UK News brings us more on the story:
Creator George Lucas said it was a "privilege" to be voted top.
Francis Ford Coppola's The Godfather came second in the survey involving 250,000 film fans.
"The fans like The Empire Strikes Back the best, partly because it is so dark.
"It's an overall story and as it happens in the second act, things get dark.
"I never really planned it to be three separate films but when it became three separate films, it had an interesting effect of each film having its own personality, caused by the plot," Lucas said.
See the full list below.
Empire Magazine's Top 10 Movies of All Time
1. Star Wars: Episode V – The Empire Strikes Back
2. The Godfather
3. The Dark Knight
4. The Shawshank Redemption
5. Pulp Fiction
6. Star Wars: Episode IV – A New Hope
7. The Lord Of The Rings: The Fellowship Of The Ring
8. Jaws
9. Raiders Of The Lost Ark
10. Inception
Would you agree with this poll? Did any of your other favorite movies make the Top 10 list?