Looking to get your Star Wars game fix while you await the big movie reveal? If you have not yet visited the Star Wars Arcade from Disney, you need to check this out. When you first visit the website, it will take you on a little tour of the site, starting with your Star Wars Room. Inside, you get to name your room. Then you can decorate your room to personalize it a bit. You are then given some arcade tokens. The tokens allow you to buy different backgrounds and decor in your room. From your room you can see trophies earned from playing games as well.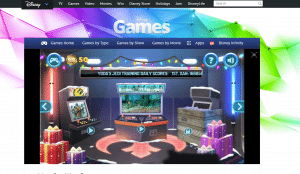 You can play games like Star Wars Rebels, Yoda's Jedi Training, Team Tactics, Rebel Strike, Ghost Raid, Live Fire, Sharpshooter – Clone Training, Racer Rush, Jawa Junkyard, Galactic Spy and Agent P. Rebel Spy. They are often adding new games to their arcade lineup so there might be even more by the time you're reading this. You can play these games right there in your browser and earn coins for decorating your Star Wars Room. You also have the chance to earn trophies for high scores. You also get to spin for a chance to win coins each day when you log into the arcade.
It makes a fun little pastime when you're supposed to be working, or while you're procrastinating on your studies. It's also fun for kids, since most of the games are very easy to pick up on. It will give you a nostalgia feel if you were a child of the arcade era. All in all, it's good clean fun and it's Star Wars so we had to share it with you. Have you already tried the Disney Star Wars Arcade? Tell us about it!