We haven't posted about any cosplays recently (are people still doing this?) but we just stumbled upon a good one. Here's an awesome Lana Beniko cosplay. She's really good – it looks exactly like her and no details were left untouched. The level of detail on everything is amazing. She has the perfect natural features to play Lana, and she gets every little detail of her costuming and hair right as well.
Lana Beniko was a Human female Sith Lord of the resurgent Sith Empire. During the Galactic War against the Galactic Republic, she served as a key advisor to Dark Council member Darth Arkous. In SWTOR, she's voiced by Lydia Leonard.
"With her serene and considerate manner, one might mistake Lana Beniko for a Jedi. She is, however, a Sith Lord of great wisdom and strength who has impressed many of her peers in a considerably short period of time with her keen insights into the nature of the Force. It was Beniko's treatise on the perceived moral parallels of Jedi and Sith in battlefield settings–as well as her passion for unraveling the truths and secrets behind the Jedi–that brought her to the attention of Darth Arkous of the Dark Council. She has since become his most trusted advisor."―In-game Codex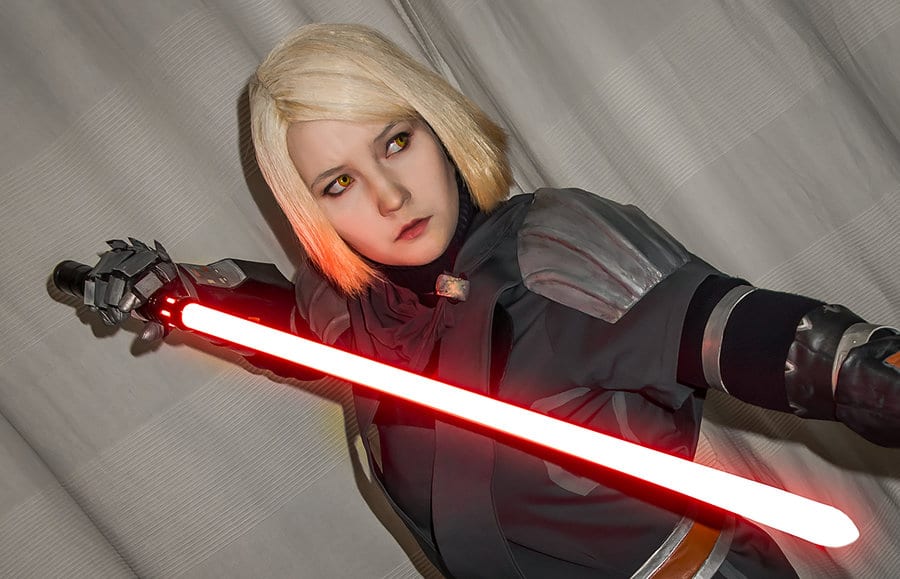 If you're curious about her lightsaber, she says she got it here: https://www.ultrasabers.com/product-p/stunt-darkinitiatev4.htm
You can see all of her photos at her Deviant Art account. If you want to see all of her photos and more Star Wars cosplay, check out her gallery. Leave her some Deviant Art love and some comments, and be sure to tell her where you heard about her. Enjoy!