We've done articles about the long and complicated history of "Star Wars" video games before. There's no right or wrong answer as to which of them is best; we all have our own opinions, and nobody has the right to tell you that your personal preferences are wrong. You might believe that "Masters of Teras Kasi" is the best of all the "Star Wars" games, and we might tilt our heads a little at you when you say that based on the fact that all of its reviews are horrible, you're entitled to your take.
What we haven't done before is take a truly detailed look at a whole different genre of "Star Wars" games, by which we mean the line of "Star Wars" online slots that you'll find at casino websites. We know they're not to everybody's taste, but for those of us who enjoy online slots, there have been some great ones. Unfortunately, there aren't as many as there used to be. Around seven years ago, Disney decided that it didn't want to be associated with online slots anymore, and it pulled every single Disney and Marvel-themed online slots game from the websites that offered them. With "Star Wars" being a Disney property now, that meant the official "Star Wars" slots disappeared too. If that's the case, how can we be writing this article?
The answer to that question is that somehow, a few "Star Wars" online slots slipped through the cracks, and if you know where to look for them, they're still out there. Some of them appear to be playing a risky game when it comes to copyright, and others have taken a creative route to avoiding incurring Disney's wrath, but there are three"Star Wars" online slots still on the market – and here's our guide to them!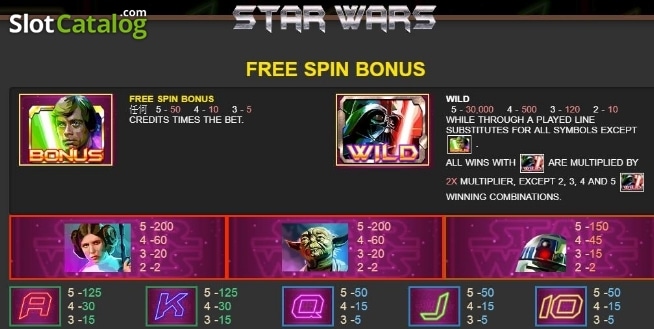 This slot, released in May 2018 by JDB168, is the one that appears to be in the most danger of finding itself on the wrong side of the law. It's certainly doing a good job of hiding, as from what we understand, it's unavailable anywhere in the USA, and you're more likely to find it on continental Europe than you are in the UK. For those who have been able to locate it, it's said to be a great looking slot that takes more than a pinch of visual inspiration from the old Atari "Star Wars" video game of the early 1980s. There's certainly a lot of neon on the 5×4 set of reels and rows.
Darth Vader functions as a wild symbol and also doubles the value of any winning line he's involved in – which is uncharacteristically generous of him – with Luke on hand as an additional bonus symbol. The maximum jackpot available through this slot is two thousand times your line bet, and can only be won inside a free spins feature that stars Princess Leia. If you're a fan of online slots and you're able to find this one anywhere, it might be advisable to play it here https://theinternetslots.com/au/online-casino-bonuses/. It surely won't evade Disney's attention forever.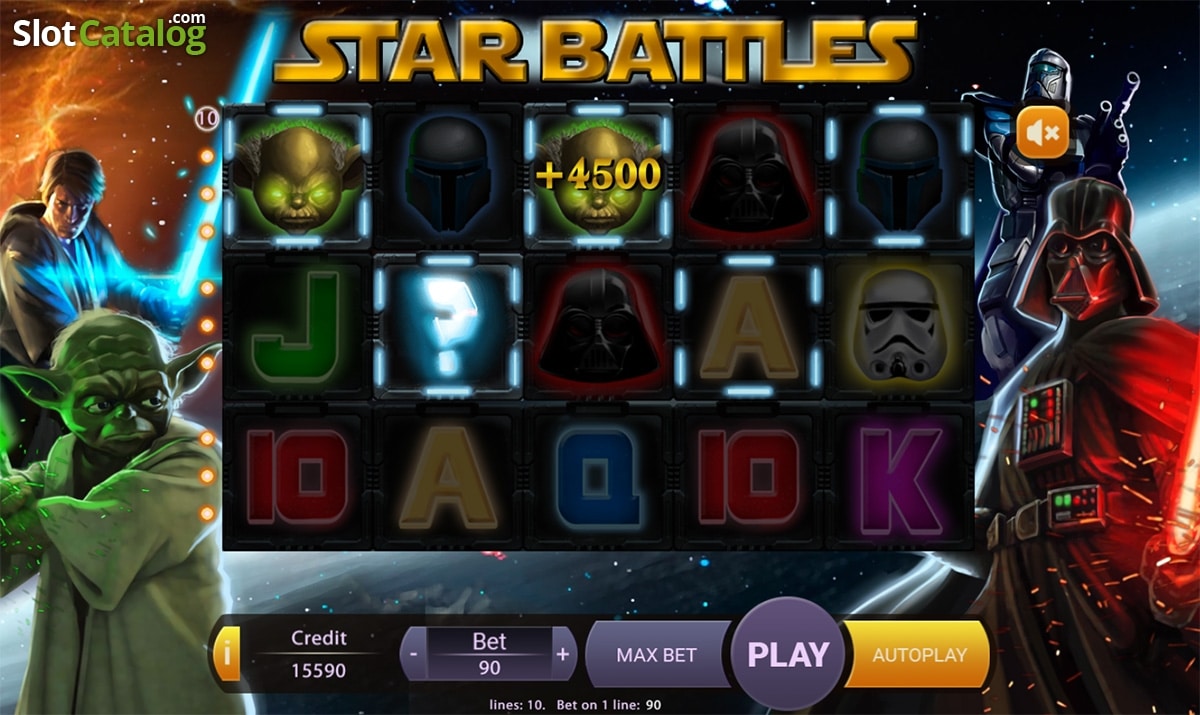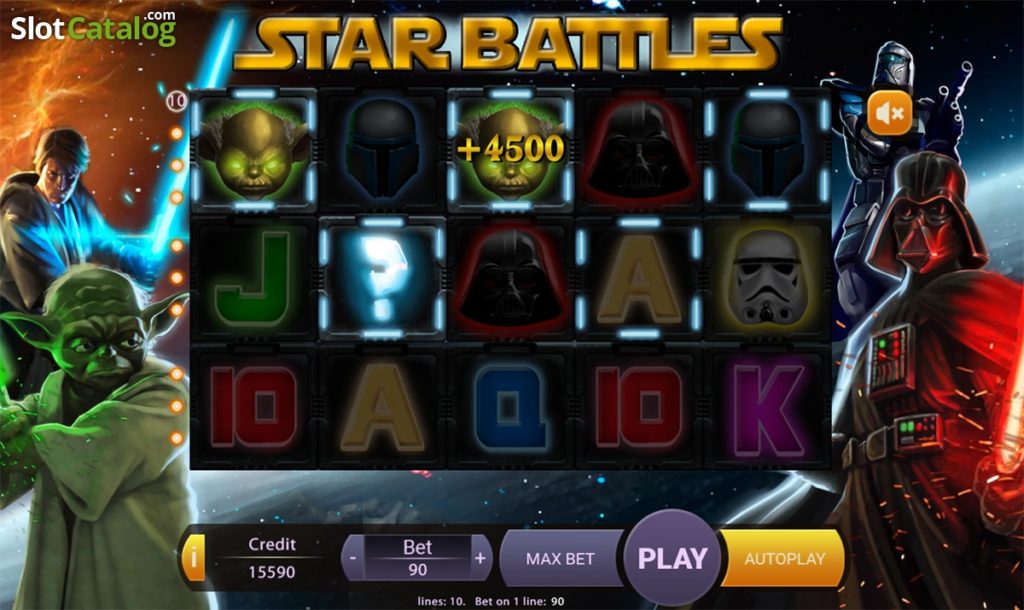 Do you see what online slots developer X-Play has done with the title of this slot? By changing one word, they've theoretically stayed on the right side of the lawyers. There's no mistaking the inspiration for the slot, though – aside from the fact that the word "Battles" appears in place of "Wars," the logo is identical right down to the font. While this is nominally a more straightforward game than the "Star Wars" slot we discussed above on account of the fact that it has a smaller 5×3 reel set, there are hidden depths here. The cascading wins feature means that every time you win once, you get a free shot at winning a second time when new symbols appear to replace the ones you just won with. On the downside, the maximum jackpot is a little lower at x1500 your stake. As soon as you load the slot, you'll notice the unmistakable presence of Yoda and Darth Vader either side of the reels. No attempt has been made to change their appearance in any way from the movies, and the stormtrooper helmets on the reels are a perfect match, too. Again, we have no idea how this is legal, but it's a fun online slots game to play nonetheless.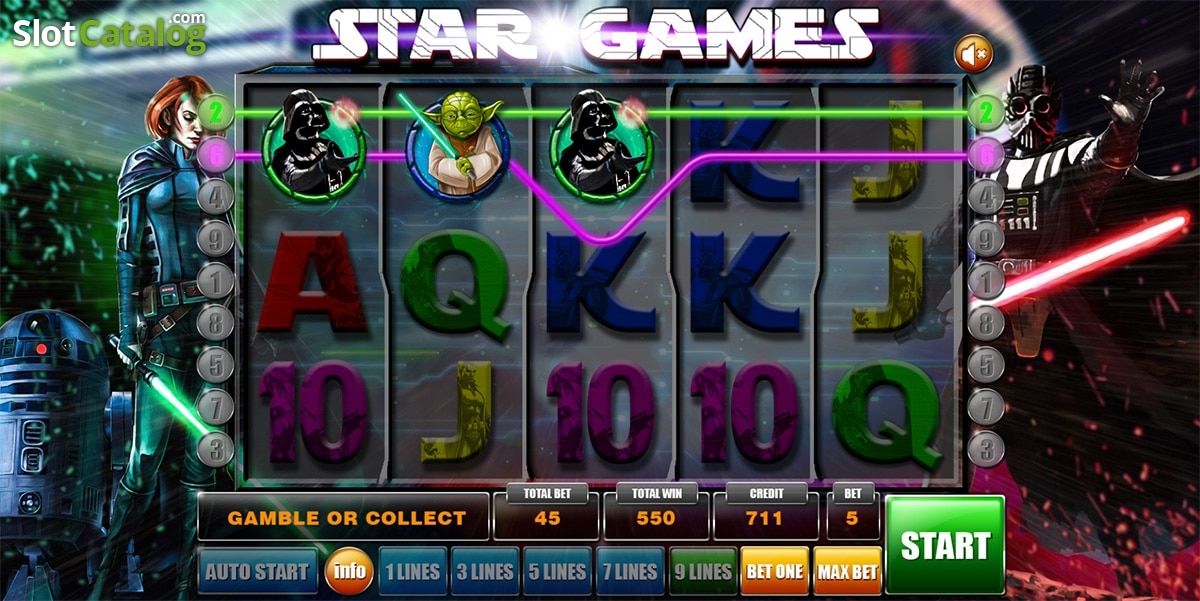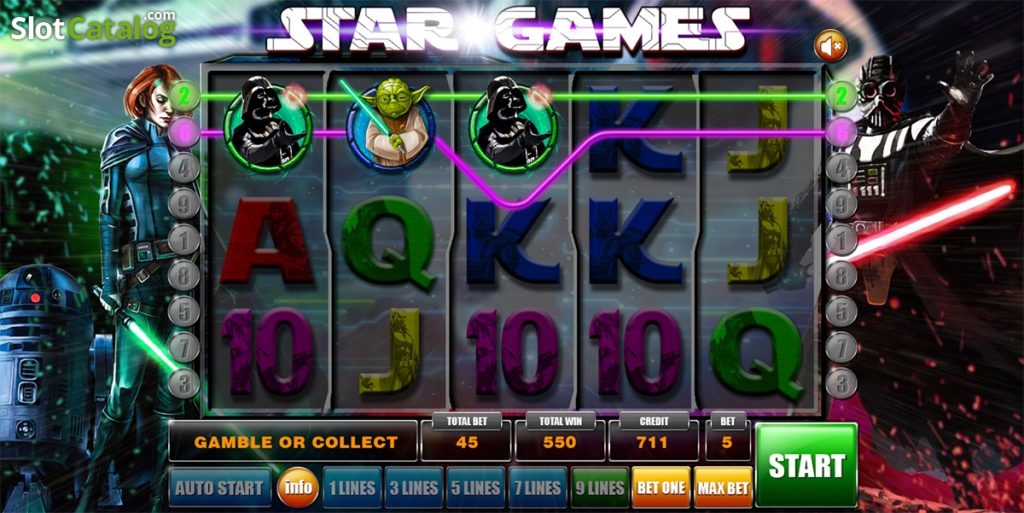 Here's another slot that's taken the 'change one word' approach to copyright violations – it's "Star Games" by GameX! They've worked a little harder than X-Play to mask what they're up to – although the character on the loading screen is clearly Darth Vader, his helmet design has been altered just enough for them to be able to claim that it's a different character. The X-Wing in the background hasn't been altered in any way, shape, or form, but we suppose one out of two isn't bad. This is a fairly simple online slots game played on a 5×3 set of reels and rows, with nine ways to win and no bonus features to speak of other than the presence of a wild symbol, and a 'double or nothing' game on offer every time you win. If you like your online slots gentle and easy to follow, this might be one for you. It packs a punch in the maximum win department, coming in with a top prize of x2000 your bet. Curiously, this slot is extremely popular in Norway but very hard to find anywhere else.
Of the three, we'd have to say that "Star Battles" is our favorite purely because of the 'cascading wins' feature, which acts as a reward for every single win you find. We suspect that "Star Games" is a little too basic to hold the attention of most players for long, and as good looking as the (seemingly official) "Star Wars" slot is, it lacks depth other than its free spins feature. As we said earlier, though, finding any of these slots is different even at the best-known online slots websites, so if you're on the hunt for them, may the force be with you!