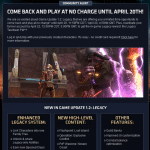 In yet another step in the Legacy Promotion by BioWare, former players now get to try the Legacy update at no charge until Friday.
As I mentioned briefly in another article, BioWare released the following statement about free play for prior players:
Former Players Come Back And Play Now On Us: April 13 – April 20

In honor of Game Update 1.2: Legacy, we are offering former subscribers the chance to come back and play on us.

Just load the game and log back in to your account– no credit card required. Play at no charge*** beginning Friday, April 13, 2012, 12:01AM CDT, 5:01AM GMT through Friday, April 20, 2012, 11:59PM CDT/ Saturday, April 21, 2012, 4:59AM GMT.

To qualify for the play period you must have formerly had an active subscription.
Really it's an ingenious idea. BioWare has the opportunity to offer some free play time to gamers who have already invested quite a deal of cash into their game and a prior subscription. All they have to do is give them a few days to check out the new content and see if it's enough to lure some players back to the game.
My guess is that it will work and they will bring some subscribers back. There are already players in my guild who have returned for 1.2. Not everyone who left will be impressed in the game update, I'm sure. Some who I know have already said they won't be staying. But it's great for BioWare to offer the free game time and let people try it on their dime and it's also a smart marketing tactic because there will be players who come back, try Legacy Update and decide to stay and see more content past the trial period.
Will you be coming back for the free trial to see if it's worth re-subbing?