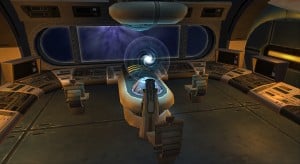 This Star Wars: The Old Republic presentation took place recently in London at the MCM Expo. There was a Q&A session to provide more info about the game and upcoming updates and patches as well as new features we can expect to see soon.
The discussion had the following topics:
General Presentation of the Game
Previous Updates
Game Update 1.2 Legacy Presentation
The Old Republic said this:
This information was gathered from the available livestream provided by Gamespot and it summarizes the topics discussed in that hour, along with the Q&A. Keep in mind that at the Q&A the answers capture the essence of what was spoken.

The host of this presentation was Emanuel Lusinchi, Technical Design Director for Star Wars: The Old Republic.
The discussion included Game Update 1.3 Allies Presentation which tells us more about what we can expect from this update, including:
Group Finder:
• Bonus daily rewards for random selection
• Role icon
• Teleport offer
• Protect the players
– vote to kick players .. requires vote from the other players
– Free Server Transfers
– Free Trial
– Improved Tutorials
– Performance Optimizations
– Mission hyperlinks in chat
– Keep original group after Warzone
– "Same vs Same" Alderaan Civil war
– Per Character Legacy Perks
Many of these features players have been waiting since launch or shortly after for so it should definitely improve morale in the game when this finally comes out. Read the full article of the presentation to learn more about what was discussed.
Of all the features we know are coming so far in 1.3, which are you the most excited about?