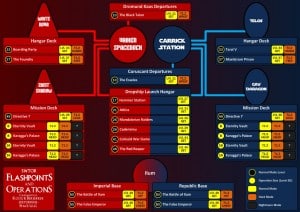 In a game like Star Wars: The Old Republic, gearscore and pure DPS numbers are very important. You should not use them to select or reject certain players but they can help you see who in your group needs help. This makes it possible for your team to work together to become stronger and there are several great character building SWTOR's tools available to help. Here are three of your best options along with a little information explaining how they can help your group improve.
Memories of Xendor
Memories of Xendor or MOX is one of the best Imperial progression guild available today for real-time parsing. It's great for players that only use one monitor because this parser allows you to see pop outs of your personal meters and of the raid group. Even if you run on full screen, you can still see them because these pop-outs are set to show at the top of the screen at all times.
This is a great feature because you can receive information from your raid in real time. The leader of the raid can use the "raid key" under the "raid tab" to numerically track the other members of the team, so you always know what's going on and what each person is doing. This will help you to build a stronger team because you'll know when someone in the group needs help and in what area they need assistance.
Ask Mr. Robot
The best place to visit when you need help building your character is Ask Mr. Robot. Their database is one of the most detailed you'll find on the Internet. You can learn what gear is best suited for your character and customize your equipment just like you can in SWTOR.
This site will take care of all the offensive and defensive calculations needed for your build. The most interesting feature you'll find on this site is the "wish list". Using it is simple. Just use the character builder to set up your current gear and then click on another tab to build your character the way you want it to be eventually. This way, you can compare the two from a statistical standpoint to see where you stand.
Mr. Robot Combat Viewer
Mr. Robot Combat Viewer allows leaders to go back and take a closer look at what happened during a run. This tool makes doing a post raid breakdown much easier than you might expect. It allows you to review the damage dealt out and the damage your group took and absorbed during the raid. You can even review the healing that was cast and received during battle, but there's more!
Another benefit is that this parser can link to your server, raid members and time zones automatically and it can link fights once the raid is ended. You can break down and review specific battles and mobs. You can even save your previous raid logs, so you can compare and see how your team is progressing.
Used wisely, these character-building tools can help you find problem areas that you need to built up and to pinpoint players that need a little help getting the hang of things. They can help you build a team that works together to accomplish your goals, so you can get the most out of each raid.