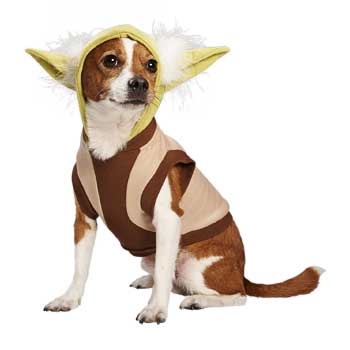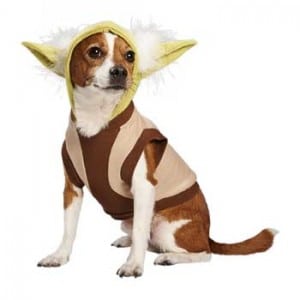 PetCo and Star Wars fans will be extremely happy to see the Star Wars Pet Collection. Over the past week at select PetCo locations, they had several events to help celebrate this cool new pet collection.
Starwars.com News highlighted the story as follows:
PETCO'S STAR WARS PET FANS COLLECTION: FOR SITH TZUS, JEDI JAVANESE, AND ALL FURRY COMPANIONS

Return of the Jedi's baby Ewoks are about to have some major competition in the cute department: Petco and Lucasfilm are excited to announce the Star Wars Pet Fans Collection, a new line of collars, leads, apparel, and toys for dogs and cats, inspired by the iconic characters of Star Wars. The product series, co-designed by Petco and Lucasfilm, launches September 1 in all Petco and Unleashed by Petco stores, and online at petco.com.

"Star Wars is, and will always be, a cultural icon, and Petco is proud to be able to collaborate with Lucasfilm on co-developing such a unique line of products for pets that is only available at Petco," said Elisabeth Charles, chief marketing officer from Petco Animal Supplies. "Many Star Wars fans have taken it upon themselves to create fantastic costumes for their pets, and now Petco offers products that are not only creative and fun, but also safe for pets."
I love Petco. I take my Shih Tzu there every month for grooming and we also pick up healthy food and treats from there on a weekly basis. And having a small dog who loves clothes, we also like to get him costumes or sweaters from time to time. Since my entire house is full of Star Wars fans, you can bet we're headed to our local store to check out this collection for ourselves. And Halloween is coming up, too so you might get a costume idea out of it.
The complete line of products includes:
Dog hoodies: Whatever Star Wars personality most fits your furry friend — whether your dog is more a Chewbacca, Jedi, Sith, or mysterious bounty hunter — there's a hoodie to match.
Dog and cat neckwear: For the fancy feline or canine, Star Wars-themed neckties and bowties are available. Dog bandanas, perfect for a more casual outing, allow pets to show off their Star Wars love anywhere in the galaxy.
Pet beds: Pets can feel the Force — even while they sleep — with a comfy Star Wars bed in either a Yoda or Darth Vader theme.
Cat toys: Cats can have a good time without a trip to the Mos Eisley cantina. Catnip mouse toys dressed as Chewbacca, Yoda, Darth Vader, or Stormtroopers, as well as themed ball and teaser toys, will keep cats mentally alert for hours.
Graphic tees: For geek chic of the four-legged kind, Star Wars characters come to life in these comfy, cotton graphic T-shirts. Choose from a classic Star Wars print, Darth Vader, Yoda, or Princess Leia, each featuring a classic Star Wars quote.
Headpieces: Look adorable, your pet will — choose from Yoda ears or Princess Leia hair buns for your dog or cat.
Dog toys: You used to play with Star Wars toys — so should your dog. Keep dogs entertained for hours with various dog toys that are themed both good and evil. Choose from Stormtroopers, Darth Vader, Jabba the Hutt, Chewbacca, Yoda, Boba Fett, C-3P0, or R2-D2.
Collars and leads: Now your collars and leads can clearly identify your pet…as a Star Wars fan. Matching collars and leads in Princess Leia pink, Death Star print, Yoda green and Star Wars hero blue are available for dogs and cats.
Darth Vader Fair Isle sweater: Perfect for original trilogy retro-cool fans: a vintage-style Darth Vader sweater.
The Star Wars Pet Fans Collection officially launched on September 1st and you can check it out here: petco.com/starwars