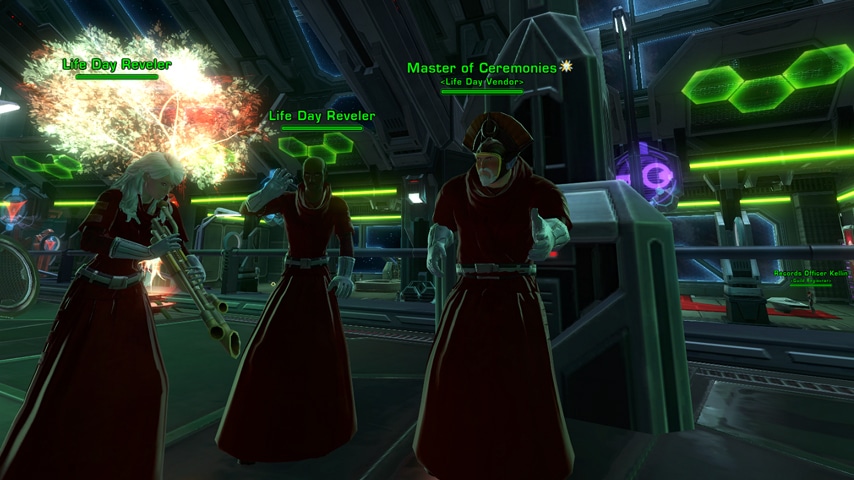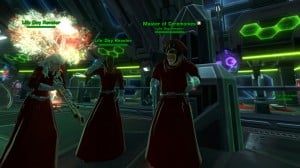 Here is a short and simple guide to help you complete SWTOR Life Day event. First, you need to go to the Galactic Trade Market area in the fleet. Look for a Master of Ceremonies NPC. He will be near the GTN.
He sells several items but you'll want to buy Life Day Snowball Bomb to start. It's an ability that you put on your hotbar. This will let you throw snowballs at other players and at NPCs. The ability has a 15s cooldown.
Now you're going to be trying to get snow-covered parcels, which are the currency for this event and will allow you to trade it for cool rewards, specific to this SWTOR event only. So you need to throw snowballs at other players to get the Snow-Covered Parcels. You can get parcels from other players even if they have the debuff. You can also manually click your debuff off. You can also get parcels by throwing snowballs at companions and NPCs.
Quick tip: If you want to get the parcels quickly and easily, you can just throw the snowballs at your own companion and then click off the debuff and do it again.
You get an achievement on the first parcel you receive.
A screen notification will tell you each time after that.
The Parcels are tradeable but if you buy or trade them, they don't count towards the achievement.
So what do you get for all this work?
It's all about the goodies, right? There are some fun rewards for this event.
24 Snow Covered Parcels: a sleigh mount, BOP, makes jingle bells noises when it moves
36 Snow Covered Parcels and 16 Gray Helix Components: Cyan Sphere, Bind to Legacy, requires speeder rank 3
Fireworks and Life Day Tree sold for 500 each
Achievements
-1 snow covered parcel
– 25 snow covered parcels
– 100 snow covered parcels (also gets you Legacy title "A Special Snowflake")
Don't forget to check out constantly growing list of guides for Star Wars: The old republic