We were pretty excited to hear that there were going to be at least 20 new Star Wars books, ranging from novels to sticker books, coming out this fall. And now they're here—the first pre-orders are available!
Not all of the books have been announced yet, but it's clear that Disney is placing a heavy emphasis on filling fans in on what happened between Return of the Jedi and The Force Awakens. In addition to the Marvel comic series we discussed earlier, Shattered Empire, we can now see a few more titles.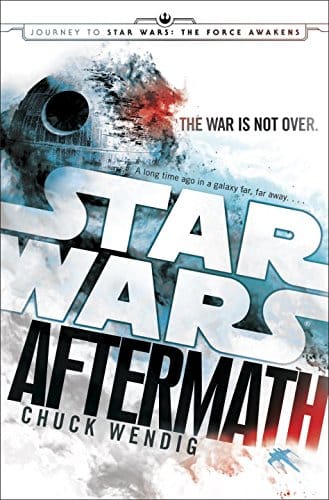 Chuck Wendig's Aftermath presents an intriguing cover, with "The war is not over" emblazoned on the cover. Looks like Disney's rewriting the canon quite a bit (we had some idea that this was the case when we saw Stormtroopers in the trailer, but this lends even more credence to the idea).
The book's description also contains the line "And while the Rebel Alliance engages the fractured forces of the Empire, a lone Rebel scout uncovers a secret Imperial meeting. . . .", setting the stage for more Alliance–Empire conflict.
In addition to Aftermath and the Marvel series, the other announced books are Lost Stars, Moving Target: A Princess Leia Adventure, Smuggler's Run: A Han Solo Adventure, The Weapon of a Jedi: A Luke Skywalker Adventure, Droid Factory, and Ships of the Galaxy.
The books have a range of release dates from September to November, and seem to be pretty reasonably priced (which, because they're hardcover, might mean that they're quite short).
Which books are you looking forward to most? Have you placed a pre-order yet? What are you hoping to see in the other Journey to the Force Awakens books?