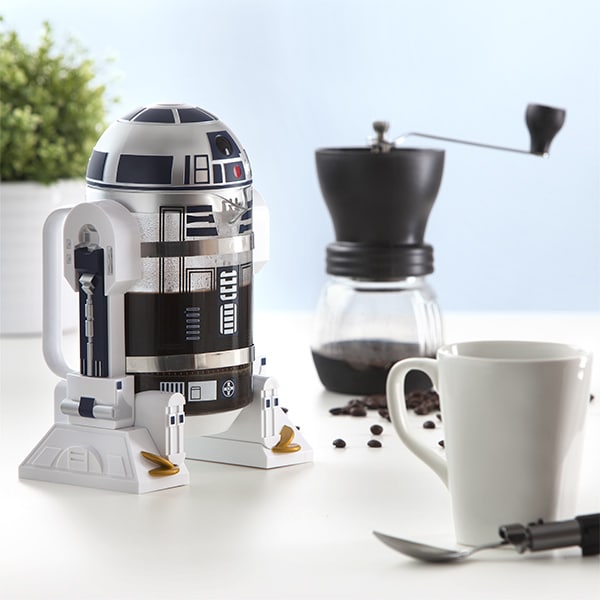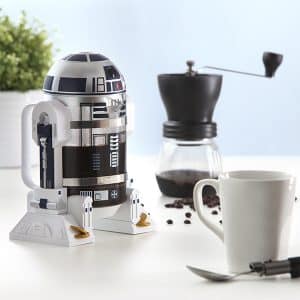 For all the Star Wars fans who are also coffee lovers, our friends over at ThinkGeek have something really awesome on the way. It's an R2-D2 coffee press and it's amazing! What a perfect gift for the Star Wars coffee fan on your holiday list, or just for yourself. It's reasonably priced at $39.99 and I have gotten Star Wars products from ThinkGeek before and they are worth the money. Some of you might remember be reviewing some of their Star Wars line here on the site before.
You can't get this yet, as it's slotted for release in early November, and it's limited to 2 per person because you know at this price, they're going to go fast. So if you want to get one for yourself, head on over and pre-order. ALso remember to get your R2D2 Comic Strip Mug
Imagine starting each day off right with a caffeinated delight from the best bot himself?
If coffee isn't your thing, they have tons of other cool Star Wars stuff and I always recommend them for holiday shopping because in addition to the sales they have, the store is packed with great items at great prices. Shop early before the popular things sell out and you also guarantee you'll get all your shopping done early and shipped right to your door.
Product Specifications 
Star Wars R2-D2 Coffee Press
Officially-licensed Star Wars merchandise
A ThinkGeek creation & exclusive
Capacity: 32 oz.
Materials: BPA-free plastic housing + glass body + food-grade stainless steel plunger & filter assembly
Dimensions: 6 1/2 wide x 9 1/2″ tall x 6 1/2″ deep (including the handle)
Weight: 1 1/2 lbs.
Includes glass carafe, plunger & filter, and housing
Removable glass carafe is dishwasher safe
Not microwave safe
This isn't an affiliate link or paid promo. I just love coffee and love R2-D2 and wanted to share it with you.