The game developers over at BioWare Austin is intrdoucing two new exciting features with Game Update 6.2: The first one is a brand new Login Rewards system, and the other is a player favorite, the Emote Window, which was startet apon in Game Update 6.2.

Let's dive in and give you an idea of what to expect from these features in Game Update 6.2: Echoes of Vengeance, launching December 9th.
Our Login Rewards system is a new feature that rewards all players, regardless of their status! The only thing you need to do is log into our game, open the Login Rewards window, and claim your reward. Rewards could include Companion Gifts, Crafting Materials, Dyes, Tech Fragments, and more valuable items!
If you're wondering what will happen if you don't log into the game for one–or several–days… Don't worry! The Login Rewards system was designed to track accumulated logins, similar to a punch card. If you log into the game for the first time on Monday, you will earn your first reward. If you do not log into the game again until Friday, you still earn your second reward, as that is your second login. You can earn all rewards at your own cadence, without fear of ever missing any!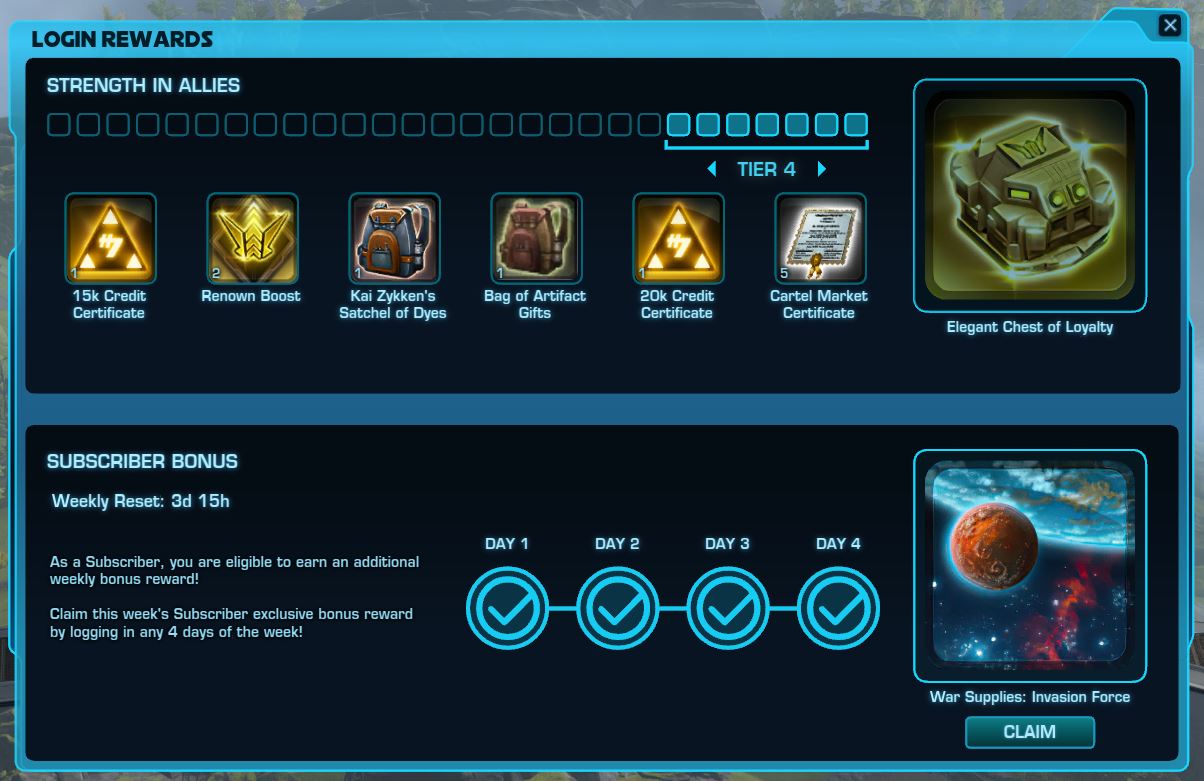 Rewards are based on three predefined 28 day Reward Calendars, each with their own theme:
Strength In Allies – This calendar will focus on your Companions with rewards such as Companion Gifts and more!
United Efforts – For the crafter at heart, this calendar will focus on Crew Skills. You can earn rewards such as crafting materials and more.
Aggressive Negotiations – "Aggressive" is an accurate description for this calendar, as rewards will focus on player vs player content with rewards such as Warzone Stims, Requisition grants, and more.
When all 28 days of the Reward Calendar have been completed, you will automatically jump into another, different, Reward Calendar. That way you can never get the same calendar twice, keeping the rewards fresh!
If you're a subscriber, you will also be eligible for a subscriber exclusive Weekly Bonus Reward! To earn this Weekly Bonus Reward, you don't need to do anything other than log into the game any four days during a week. Those Bonus rewards will focus primarily on time savers with rewards such as Personal Conquest Requisition, Valor Tokens, and more.


Emote Window
Searching for the right emote will be easier than ever with the brand new Emote Window!
We leaned into making this new window very visual, so you can find the exact emote you are looking for at a glance! Emotes now appear in two simple categories, Unlocked and Locked. This way, you'll never have to guess whether you've unlocked that specific dance emote or not! We are also adding additional icons for each emote to communicate if the emote loops or not. We've also added the speaker icon for any emote that has an audio element!
And that's just the beginning! We are looking to the future to continue to improve on the new emote window!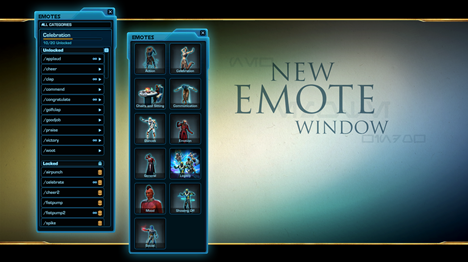 Get your dance on and claim new rewards in Game Update 6.2: Echoes of Vengeance on December 9th.