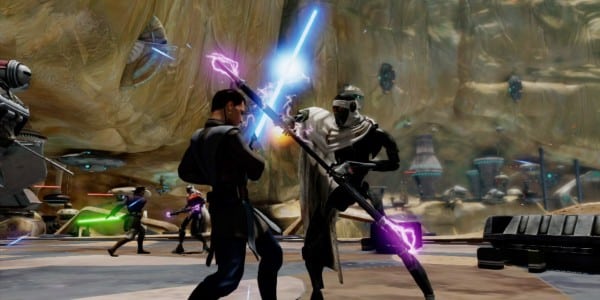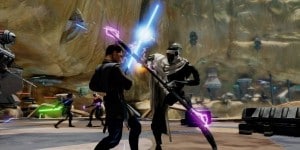 Who doesn't love Kinect?  Add in Star Wars and I'm a happy gamer!  I have been waiting for this game to come out as I'm sure many other Star Wars fans have.  There is a lot more to the game than meets the eye though and it is not just about fighting battles, although there is plenty of that type of action.  Many of the movie scenes are included in the game as well.
The Herald Sun tells us more:
Kinect Star Wars is one of the most eagerly awaited titles based on the sci-fi franchise. Set just before Episode II: Attack of the Clones, players use the Xbox 360 Kinect motion controller to complete a Jedi Destiny campaign, dogfight in space or go all Rampage on a Rancor.

And, of course, most importantly, flail around in their living rooms wielding a Kinect-powered lightsaber.

Yes, you get the chance to strut your stuff in Jabba's Palace as iconic Star Wars characters, such as Princess Leia in THAT bikini.

LucasArts creative director Kudos Tsunoda said the team wasn't going to be intimidated by fan expectations.

"That's what got us excited about working on this product and want to deliver a game that everyone was going to love," Mr Tsunoda said.

"We made sure the people making this game love Star Wars as much as the fans do and that's how you ensure you have the best product."
Yet while this all sounds well and good, not everyone is as thrilled about the game. There are some downsides to the game that have many concerned that it is not hard core enough (according to IGN). And the dance mode is also getting a lot of flak, as we've written about before here on the site.
Having said all that, I really like the new dance offs.  It's a fun way to take a break from all the action.  But there are some real highlights in the game including a duel mode which Lee Taylor found to be like a dream come true:
"Squaring off against Vader in Jedi Duel mode and firing up the lightsaber for the first time left me with goose bumps.
He had the first three attacks with me having to quickly anticipate where his blow would land and move to defend myself. Then it was my turn, with the motion controller capturing swings, jumps and kicks."
What are your thoughts on the new Kinect Star Wars?  Do you like it, love it or something in between?