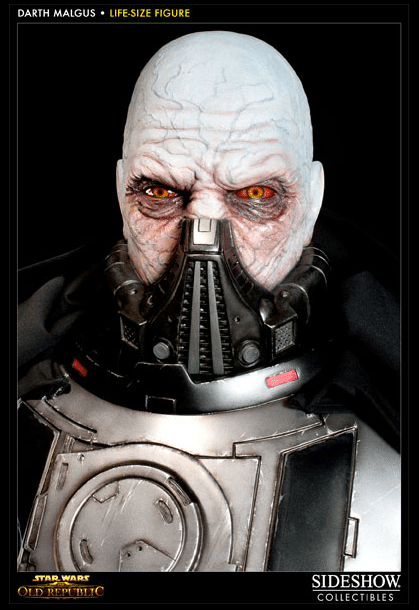 Remember when we told you about that really cool life sized Lord Malgus figure? Who wouldn't want to have something awesome like that? I'd put mine by the front door to greet visitors who come over. Well, now you have a chance to get one of your very own- for free!
This from SWTOR.com News:
Throughout the Great Galactic War, the ruthless Sith Lord Malgus spread chaos and destruction across the galaxy. With his hulking figure and piercing gaze, Darth Malgus struck fear in the hearts of even the most hardened of Republic troopers. Now you will have the chance to stand before the legendary Sith Lord within your very own home. We are proud to announce that Sideshow Collectibles, in partnership with BioWare and LucasArts, is giving away one seven-foot figure of Darth Malgus, to one lucky fan of Star Wars™: The Old Republic™!
Starting today and continuing until May 11th, 2012, individuals who have registered accounts with www.StarWarsTheOldRepublic.com will be able to enter for a chance to win a life-sized figure of Darth Malgus, valued at nearly $6,000. To enter, make your way to the Sideshow Collectible's contest page, and fill out their general contest form with your name, address, phone number and email. Remember to use the same email address that you used to register your Star Wars: The Old Republic account! If you do not yet have an account on www.StarWarsTheOldRepublic.com, you can create one by clicking the "Sign Up" button at the upper-right corner of the browser window and following the simple steps that follow.
Once the contest has closed on May 11, 2012 a winner will be chosen at random and notified via email on May 14th, 2012. The winner will also be announced on the official contest page on Sideshow Collectible's website. This contest is only open to residents of the United States (including the District of Columbia), who are at least 18 years of age and who are registered users of the StarWarsTheOldRepublic.com website. The winner is responsible for any taxes applied to the cost of shipping. For the official rules, as well as the terms and conditions, please refer to the Sideshow Collectibles contest page.
I know I plan to enter. What would you do with it if you win?