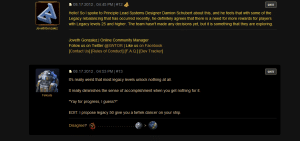 Have you been wanting more Legacy rewards in SWTOR? Does it seem like a lot of effort to level up your Legacy for what you get? BioWare is listening and thre might be more Legacy rewards coming soon. Online Community Manager Joveth Gonzalez says this on the forums:
Hello! So I spoke to Principle Lead Systems Designer Damion Schubert about this, and he feels that with some of the Legacy rebalancing that has occurred recently, he definitely agrees that there is a need for more rewards for players with Legacy levels 25 and higher. The team hasn't made any decisions yet, but it is something that they are exploring.
My thoughts (especially after visiting BioWare Austin) are that they had a lot planned that just didn't make it into the game yet and they are now finally getting permission to move forward and finalize a lot of these things they have wanted to do all along.Many comments on the thread agree with the thoughts that Legacy has little purpose after level 20 and that what was supposed to be one of the biggest highlights of the game seems to have been brushed under the rug, so to speak.
It's not likely we will see these Legacy rewards in the pay-to-play lifetime of the game but after F2P is released. Maybe they can offer some additional incentive/bonus to those players who reached a certain level of Legacy before the game went free to play?
What do you think about more Legacy rewards and what kinds of rewards do you want to see added to the game?