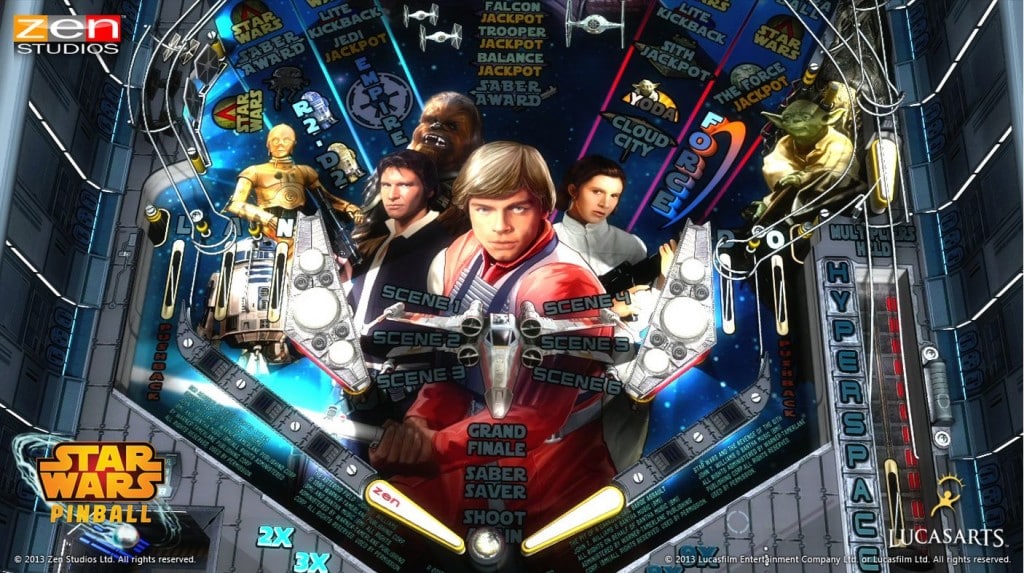 I love pinball and I love Star Wars. I also love video games. Now that we've gotten that out of the way, let's take a look at Star Wars Pinball and let me tell you what I think of it. Star Wars Pinball from Zen Studios is a pretty good game for a non-arcade pinball on the Wii. It has a realistic feel to it and you start off with three tables, and have the ability to get more in the future.
The initial tables are based on "Episode 5: A New Hope," "The Clone Wars Series" and Boba Fett so there's something good there for fans and this adds to the fun. The game also steps it up with the music and I was impressed to hear classic music from the movies.
There's something here for both Star Wars fans and pinball lovers. Some of the controls are hard to get used to but overall once you get it, you'll be beating your high score in no time.
Learn more about Star Wars Pinball from the official site here.
OVERVIEW
Set in a galaxy far, far away, Star Wars Pinball lets you interact with the most iconic characters, and relive the greatest moments of the Star Warsuniverse in 3 Star Wars-themed tables: Star Wars Episode V: The Empire Strikes Back, Star Wars: The Clone Wars, and Boba Fett.
Choose to support the Galactic Empire or the Rebel Alliance with your high scores as the Star Wars Pinball community fights for the Balance of the Force!
Additional Star Wars Pinball tables are coming soon!
May the Force be with you!
FEATURES
No. of Players: 1 player with local and online multiplayer modes
Category: Arcade
Publisher: Zen Studios
Developer: Zen Studios