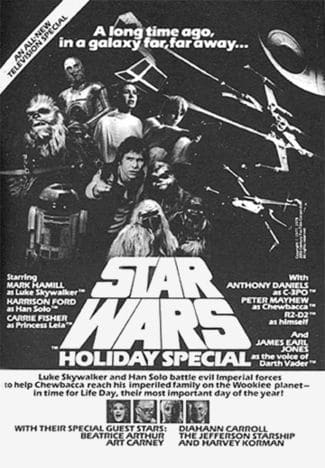 The Star Wars Holiday Special is a 1978 American television film set in the Star Wars galaxy. If you have never heard of it, don't worry. You are not alone. This "holiday special" was (probably deliberately) buried after it aired back in '78 and finding a copy of it today is no easy task. While some may call it a "Christmas special", it was actually about the Wookiee holiday of Life Day. The premise was good but the actual execution… well, we will leave you to form your own opinions on it but since it's not so easy to just see the film, I want to share with you a great review done by the Nostalgia Critic. If you're not familiar with NC, well… that's just an additional treat for you.
Check out the video to see all you need to know about this holiday special and find some movie credits below.
So there we have it! It's pretty easy to see why they tried to bury this one. I am a HUGE Star Wars fan but this… this was just sad.
Written by

Pat Proft
Leonard Ripps
Bruce Vilanch
Rod Warren
Mitzie Welch

Directed by

Steve Binder
David Acomba (uncredited)

Starring

Peter Mayhew
Kenny Baker
Bea Arthur
Don Francks

Composer(s)
John Williams
(Star Wars theme)
Ian Fraser (score)
Ken Welch (songs)
Mitzie Welch (songs)
Production
Executive

producer(s)

Producer(s)

Joe Layton
Jeff Starsh
Ken Welch
Mitzie Welch

Running time
97 minutes
Production

company(s)

Smith-Dwight HemionProductions
Winters Hollywood Entertainment Holdings Corporation
20th Century Fox Television
Image credit: "StarWarsHS" by Source. Licensed under Fair use via Wikipedia – http://en.wikipedia.org/wiki/File:StarWarsHS.jpg#/media/File:StarWarsHS.jpg