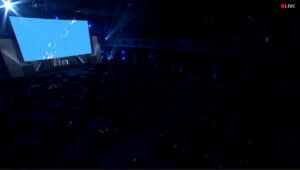 The EA livestream begins at 1PM PT (4PM ET) today, June 15th. This post will serve to recap all SWTOR coverage. First you will see a timeline of the E3 livestream and down below you will find more details of the SWTOR-related portions of this event.
4:00 PM – EA CEO Andrew Wilson takes the floor
4:05 PM – "Need for Speed" coverage
4:15 PM – Jeff Hickman, Studio General Manager, Bioware Austin, takes the floor
[Expansion is announced, trailer is revealed, full recap below.]
4:20 PM – "Unravel" coverage
4:25 PM – "Plants vs Zombies: Garden Warfare 2" coverage
4:35 PM – "NHL 15" coverage
4:36 PM – "Rory McIlroy PGA Tour" coverage (first EA game using Frostbite Engine)
4:38 PM – "NBA Live 16" coverage
4:45 PM – Mobile Gaming coverage
4:48 PM – "FIFA 16" coverage
5:00 PM – "Mirror's Edge" Coverage
5:05 PM – "Madden NFL 16" Coverage
5:15 PM – "Star Wars Battlefront" coverage
SWTOR: Knights of the Fallen Empire Expansion Summary
The expansion launches on October 27th, and is FREE for all subscribers.
Hickman tells us how the fans want more story and Bioware has listened.
SWTOR will go back to its roots of cinematic storytelling.
You can betray companions (lots of people excited about this one).
There will be new worlds to explore, new story arcs and new companions to meet.
CHOICES THAT MATTER
Be at the center of a personal Star Wars™ story where choices matter and impact outcomes.
START AT LEVEL 60
You will become The Outlander, a Level 60 veteran of the Great Galactic War.
BUILD AN ALLIANCE
Build a team of hand-picked allies to join your alliance; meet new companions and reunite with existing companions ready to offer you their loyalty.
YOUR PERSONAL SAGA
Play one of eight class stories enhanced to offer a deeper, more accessible experience purely focused on immersing you in a personal Star Wars story.
CONTINUOUS STORY
This is only the beginning of an evolving Star Wars story, new chapters released on a regular basis.
Subscriber Rewards Program
Be a subscriber on the dates below to earn in-game rewards at launch:
Nico Okarr Companion (July 31st) -When you travel with Nico Okarr, the legendary gunslinger from Star Wars: The Old Republic's "Return" cinematic trailer, you can be sure that he will always have your back.
Nico Okarr Blaster Set (August 31st) – A stylish weapon set for the enthusiastic gunslinger; keep it for yourself or give to your Companion.
Nico Okarr Duster Coat (September 30th) – Impressive is the only word that describes Nico's swashbuckling duster; you can be sure that wearing this duster sets you apart from other heroes.
Star Wars™: Knights of the Old Republic™ – Inspired Swoop Bike (October 19th) – Escape your enemies in epic style on your custom Star Wars™: Knights of the Old Republic™-inspired Swoop Bike
Early Access (Sub between July 31st to October 19th)
Choose to be a Subscriber from July 31 to October 19 to receive the Early Access Bonus Reward! Be one of the first to jump in and get access to Knights of the Fallen Empire seven days prior to live launch.
Here's the trailer once more, in case you missed it: