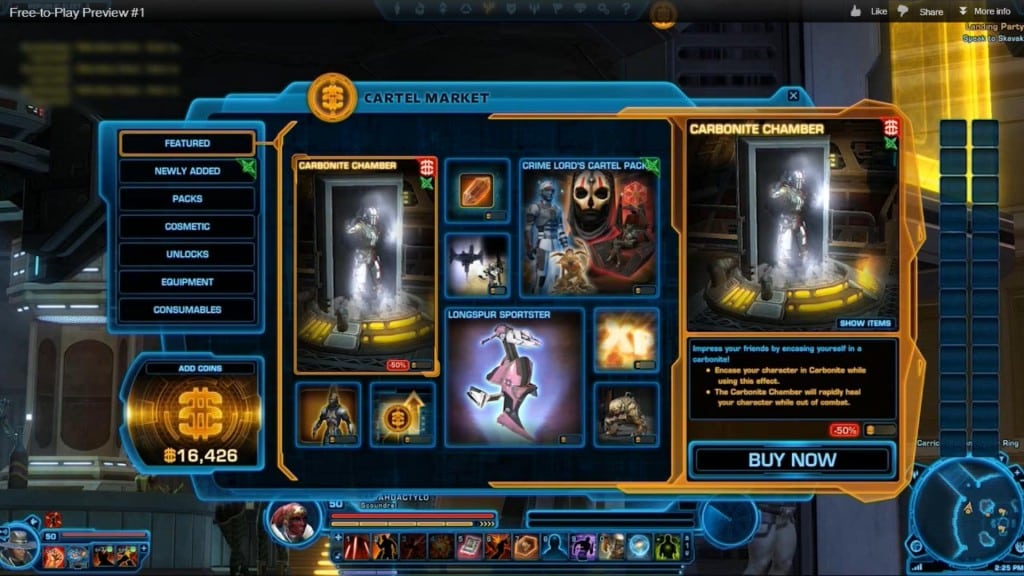 With the free to play model added to SWTOR, more fans get to enjoy the game. You can play as much or as little as you want without worrying about having to pay a monthly subscription or trying to "get your money's worth". However, the subscription model still exists which brings up the very important question of "What's the difference?"
To encourage those who want to continue paying for a subscription, there are some additional features to thank you for your time and for playing.
Learn more about the differences between the two types of play.
Subscription vs. Free-to-Play Features
A Galaxy of Possibilities for Every Player.
Preferred Status – Making a purchase will unlock access to the following features:
The ability to run faster (Sprint) starting at Level 1.
Cargo Hold access (Bank Slots) and higher login queue priority.
Increased access to Chat and Secure Trading.
NOTE: Characters must be at least Level six (6) to unlock access to their ship's Cargo Hold, full General Chat, and Secure Trading.
Both free to play and subscription accounts have full access to story content. After that, free to play gamers have limited access to:
Character creation choices
Operations
Warzones
Flashpoints
Cargo hold
Inventory
Death
Item equipping
The limitations vary according to the feature. For example, free to play players have no priority status in the login queue. They also do not have access to the emergency fleet pass unless they purchase it. None of these features give a subscribed player more power in the game. They are novelty and convenience items. In my opinion, it's really worth it because if you don't want or need these features, you can choose just to skip them and pay F2P but for those who do want a little more, the option is there for you.
What do you think about the differences in the features?