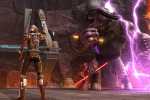 In this post we are finally able to announce that the patch everyone has been waiting for is here soon! SWTOR Patch 1.2 officially Is released on the 12th April 2012 and is one of the largest patches seen in a MMORG.
Further to the point the server downtime will be about 8 hours looking at the official announcement on the forums.
Of course there will be the new improved Legacy system, UI Customisation and gear updates. For the actual content the biggest changes will be a new warzone, Flashpoint and Operation in the game that will keep all you raiders and PVP'ers happy for a while.
There will also be a new Warzone ranking system to get to grips with as well.
Throughout this blog we have given you quite a few free builds from www.swtorsavior.com and if you really want to get to grips with the game fast and hit the ground running then you might want to check out this guide.
Out of all of the SWTOR guides SWTOR Savior is updated for patch 1.2 and guides you through the new Legacy system as well as a guide for the new Warzone and Operation and changes to the crew skills which you will need to know if you want to keep on getting credits from the GTN.
Of course we are the first to say that you don't NEED a SWTOR guide to play the game BUT if you want the scope and a full guide on the updates OR you are struggling to get to level cap then a good guide can do you wonders and help out!