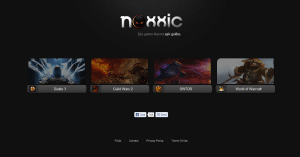 Here at SWTOR Strategies, we've been bringing you great SWTOR news and info as well as Star Wars and MMORGP news and info since before SWTOR's release. Well, we found something else really cool in our research- gaming guides from Noxxic guild.
In particular, we found their SWTOR guide but then we saw they also have guides for many other great games, some of which you might also play.
The crew over at Noxxic were nice enough to take some time to talk to me about their guild, their website, their guides and what they are all about. So here's the interview for you to learn more yourself and be sure to head on over and check out their guides! 
Lisa: Can you tell us a little about Noxxic, the games you play and what you're all about?
At Noxxic, we only have one goal and that is to provide proven and accessible class and gameplay guides for our favorite MMOs. We strive to produce content that is both highly researched and easy-to-use. These goals are sometimes conflicting and we are constantly experimenting with how to present a ton of game information in as convenient of a format as possible!
Noxxic is full of diehard MMO fans. Some of us dabbled in MUDs, MOOs, and EverQuest while others started their MMO life with World of Warcraft. All of us live and breathe MMOs and play more than just those we offer guides for on our site. Eve Online, Lord of the Rings Online, Rift, TERA, Secret World, Age of Conan, and several others are all favorites for us. We'd love to produce guides for every MMO we play, but it's just not possible!
Lisa: How long have you been creating these game guides?
Noxxic launched in March 2011 as a class guide site for World of Warcraft. Encouraged by the reception of our WoW guides we decided to expand into other MMOs including Diablo 3, Guild Wars 2, and Star Wars: The Old Republic. SWTOR was our second game site and it launched in April 2012 with Patch 1.2.
Prior to producing Noxxic guides, all of us have been involved in MMO theorycrafting. We've contributed to guides, taught our guild mates, bug hunted for simulation programs, beta tested addons, and many other activities. We love MMOs and want to help other players enjoy MMOs as much as we do!
Lisa: How long have you been playing SWTOR?
We were lucky enough to get our first taste of SWTOR during a closed/NDA test weekend in late 2010 (before we even had our WoW site) and then we got into the beta in late 2011. We were there for early access prior to the retail launch and have played the game ever since. SWTOR continues to improve with every patch and we can't wait to see what happens in the next few months with 1.4 and F2P!
Lisa: How do you feel your guides help others who play these games?
MMOs like SWTOR are complicated games. Anyone who has spent but a few minutes in SWTOR knows how overwhelming it can be to try and figure out how to combine all those stats, gear, talents, abilities, etc. into an effective character. We want to help people move past all that confusion so they can jump in and play the game.
However, that is all easier said than done. The "go to" model for guides in MMOs has always been forum posts that drag on for dozens or hundreds of pages. The forum model just isn't very friendly and we don't think you should have to read 100 pages before playing your class.
Our goal is to provide a website that offers proven information in the most easy-to-use manner possible. We're never satisfied with our site and continue to update our design and content to improve the Noxxic experience. We have major changes on the way for our SWTOR guides including video guides, a new site design, and a much improved contribution system for getting community assistance in updating our content!
Lisa: How do you feel about SWTOR going free to play?
We couldn't be more excited for SWTOR F2P!
SWTOR is an amazing game and the subscription model is just a barrier that keeps players out. Every MMO gamer should try SWTOR and engross themselves in a class story, play hutball, and enjoy the amazing Star Wars universe that BioWare has created. We absolutely believe that SWTOR F2P will be a huge success and keep the game thriving for years to come.
—
It was really a lot of fun to have the opportunity to learn more about Noxxic and their guides are really awesome. I suspect one reason why is that they highly encourage anyone who visits the site to take the time to send them a note about how they can improve. They even make it really easy to do so with a contact form on the website.
Noxxic says:
If you think our site design could be better or our class guides improved, then please tell us! We want to produce the best SWTOR resource on the Internet and that takes the effort of a community. 
Every page of our SWTOR guides has a big blue "Contribute to Page" button for visitors who would like to make a contribution or ask a question about the content on that page (talents, item mods, rotations, etc). We respond to *every* contribution and question that we get so please keep them coming!
 In the near future we're launching a new system to improve the process of contributing to our guides and we're looking for volunteers to help keep our SWTOR guides as current and awesome as possible. If any of your readers are at all interested in helping us make the best SWTOR guides on the Internet, then please send us a message at contribute@noxxic.com to learn more. J
So there you have it! Head on over and check out Noxxic's SWTOR guides or their other guides for games you play and drop them a note to tell them what you think and that you found them from us.