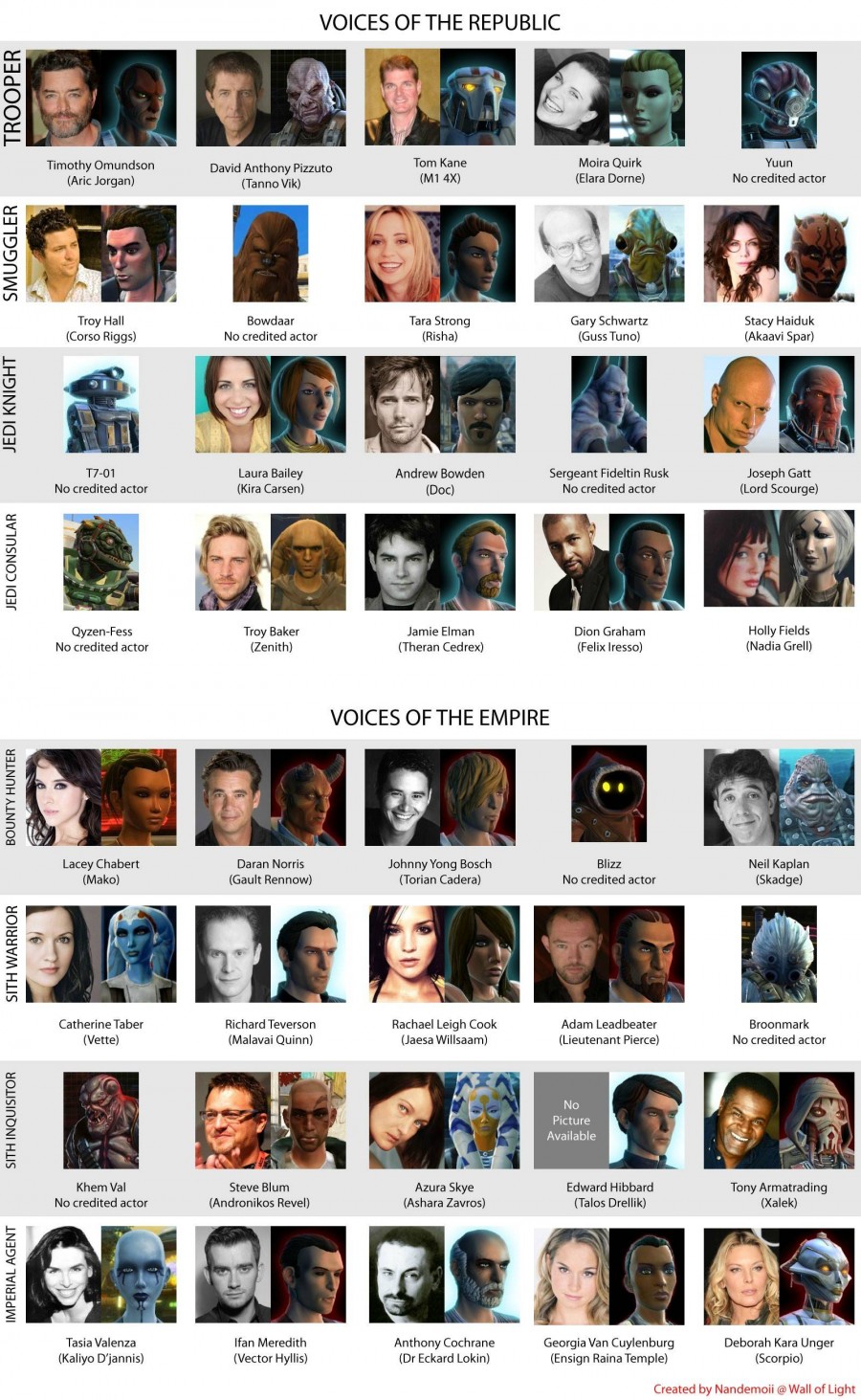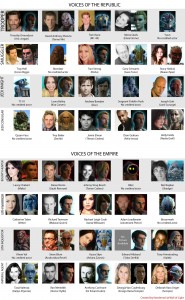 When Star Wars: The Old Republic first launched it became one of the biggest video game voice-over projects that BioWare or any gaming studio had ever done. It consisted of over 200,000 lines of dialogue that was voiced by more than 200 actors, and with each new expansion and mansion this number has grown. With a ton of different voice actors using their talents, it won't be surprising to once in a while find yourself thinking, "Where have I heard that voice before?" So many have done that often and we have a list of some of the largest celebrities and actors who are behind the characters in the SWTOR community since 2012.
Jennifer Hale: Female Trooper and Satele Shan
Jennifer Hale is best-known in the video gaming world for being the voice behind FemShep in all of the amazing Mass Effect games, but she has also made her mark in other games and animated TV series. Over one SWTOR player has talked about that playing the female Trooper is quite like getting a fourth outing for FemShep, which is not a bad thing. Hale has also made an appearance in different places to be Jedi Master Satele Shan, which is probably odd when a Trooper is talking to her.
Nolan North: Male Jedi Consular
The majority of fans seem to know who Nolan North is. He has starred in more video games than most people have ever played, and they include Saint's Row, Guild Wars, Uncharted, EverQuest II, Guild Wars II, Marvel Heroes, Final Fantasy XIV, World of Warcraft, and Destiny. However, we think he is being given a weak role as the Jedi Consular since this class is one of the weakest and least exciting. But it's always great to have him on board!
Lacey Chabert: Mako
Lacey Chabert is taking on the role of the Bounty Hunter's first companion, who is the sweet but sometimes complicated, Mako. Each class seems to have at least one companion who gets their own part of the side stories, and Mako is a hog in her narrative during the search for her past. She has a past of voice acting and live roles, including a stint in Infinite Crisis.
David Hayter: Male Jedi Knight
If you are a gaming geek, the name David Hayter is a common name for his long work with voicing Solid Snake in the Metal Gear Solid games. He is also a very accomplished screenwriter and has worked on X-Men, X2, and Watchmen. Jedi Knight players are quite lucky to get his voice talents, and this is about as close to starring in a role in SWTOR as it gets.
Kari Wahlgren: Female Jedi Knight
Like the majority of the names on this top ten list, Wahlgren has tons of credits under her belt and this includes live-action, anime, animated, and video games. Players will probably recognize her as the voice of Caithe in Guild Wars 2, Vex in Skyrim, Emma Frost in Marvel Heroes, or Kirsten Geary in The Secret World. She has definitely earned her spot at the Jedi Knight table.
Rachael Leigh Cook: Jaesa Willsaam
Do you happen to remember Cook's early gig doing an amazing anti-drug commercial? Tons of people fell in love with her after it hit the screen. It's quite ironic that she's a romance option for the Sith Warrior as well as a Jedi Padawan that is able to be taken to the Dark Side of the Force. Cook isn't really known for voice-overs but she's a great catch for the games companion options.
Tara Strong: Risha and Holiday
Where to start with Tara Strong? Her portfolio is long and she has been working since the 80s. She is most known for doing the voice for Bubbles in the Powerpuff Girls, Twilight Sparkle in My Little Pony, Dil and Timmy in Rugrats, Rikku in Final Fantasy X, and Harley Quinn in several Batman games and shows, and this is just the tip of the iceberg. In SWTOR, she is on double duty in the companion area as both Risha and Holiday. Risha is a Smuggler companion and Holiday is a holographic assistant of a Jedi Consular companion.
Maurice LaMarche: General Var Suthra, Lox, and The Wheezer
Maurice LaMarche is known for many different characters, but many fell in love with him as Kif and Morbo in Futurama. He's also known for being the voice of Brain from Pinky and the Brain, several soldiers in G.I. Joe, Chief Quimby in the old Inspector Gadget, Scuttle from The Little Mermaid, and so much more. This man is seriously a legend and everyone has heard his voice at least once, realizing it or not.
Phil LaMarr: Master Syo Bakarn and Sanju Pyne
Phil LaMarr is another impressive person who has been nearly everywhere. He starred as a principal on MADtv, did the voice of Hermes in Futurama, and also had roles in many animated shows and movies in the last few decades. So, it should not come as a surprise that LaMarr was involved with both Knights of the Old Republic games, Diablo III, Mass Effect series, and the Marvel Super Hero Squad Online. How in the world does he find time to do all of this including SWTOR?
Thomas F. Wilson: Various characters
Ladies and gentlemen, Biff from Back to the Future is starring in SWTOR! Wilson is mainly known for being a stand-up comedian, television actor, and musician, but these days he does have credits for voiceovers in video games like the Wing Commander series.