The Star Wars franchise has hatched hundreds of video games over the years and will continue to produce gaming content in the Star Wars universe for every device imaginable. Those games have resulted in this website being produced and we're happy to continue keeping you informed on Star Wars: The Old Republic and Star Wars games in general with updates, comments, reviews and more. While 2017 promises to deliver new content for Star Wars: Battlefront, Star Wars: Galaxy of Heroes and Star Wars: The Old Republic, we're never satisfied and our appetite for Star Wars gaming experiences knows no bounds. With that in mind, here are the Star Wars games we would most like to see and play right now.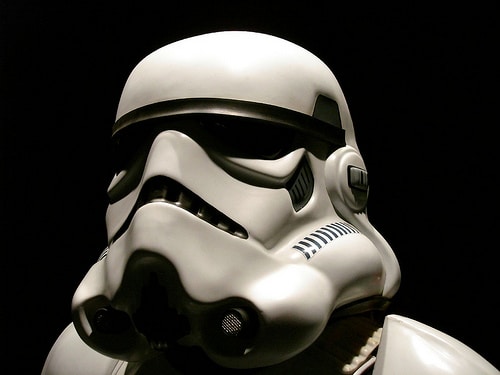 Star Wars Exhibition Madrid" (CC BY 2.0) by jorgeip
The pod racing scene from Star Wars: Episode I – The Phantom Menace was one of the few highlights of a largely disappointing film that left most fans of the franchise very much underwhelmed. Yet from the substandard movie we did get a game that set the record as the best-selling sci-fi racing game of all time in Star Wars Episode I: Racer. With Tournament, Free Race, Time Attack, Two Player and Multiplayer modes all featuring planets, vehicles and characters from the movies this was a must-have title for the Nintendo 64. It's been a long time since that LucasArts game and it seems to be a good time for a reboot of this format. Something that resembles the TrackMania series by Nadeo, with different game modes and a community of racers competing and creating tracks online would be a welcome addition to the Star Wars series.
There have already been online slots for a host of movies far less successful than the Star Wars franchise, yet we're still waiting for the ultimate Star Wars slot to appear. Slot machines have been transformed in recent years to immersive, themed experiences with loads of bonuses and promotions. With online innovations such as slots deposit by phone bill option for players it's easy to start spinning reels right away. Online casinos were quick to develop slot machines from movies and the latest themed slots use symbols, music, animations, mini-games and video footage to make you a part of that movie universe. The potential for a Star Wars themed slot is immense, with so many characters and ideas for mini games they would probably need to make a new game for each movie and hopefully Episode I is in the pipeline.
"mos eisley cantina scenesters, Tunisia" (CC BY 2.0) by Charkrem
Mos Eisley Cantina Manager
If you haven't already played the excellent Star Wars: Tiny Death Star game then you're quite unlucky, as it was removed by Disney, much to the annoyance of developers Nimblebit. The game focused on building and expanding your Death Star though your business acumen in attracting Bitizens to run businesses within the structure. Although the game itself was a little vulnerable to bugs, it was a great concept and something we would like to see again, but within the setting of the Mos Eisley Cantina. The potential for a game combining the best parts of Star Wars: Tiny Death Star and the highly rated Cook, Serve, Delicious! would be a surefire winner. The potential for characters, food, entertainment and drama provided by the iconic Mos Eisley Cantina on Tatooine is endless and would make for a very unique and engaging game.
Star Wars Tanks
There are many tank-like war machines within the Star Wars universe and although previous games have offered the chance to pilot these vehicles, there needs to be a game dedicated to this type of armoured vehicle conflict. Something along the lines of the massively popular multiplayer online game World of Tanks, but with you taking command of an AT-AT and going to battle at the Rebel Alliances Echo Base on Hoth. There might be a slight snag with possible design flaws in the Star Wars universe vehicles and some terrain issues, but these could be remedied to make an excellent game featuring different game modes, vehicles, characters and strongholds all within the Star Wars cosmos.
There is some great Star Wars content on the horizon and we can't wait to get our hands on it, but the Star Wars world has so many gaming possibilities that there is just so much more that we want. These suggestions are just the tip of the iceberg and most Star Wars fans could probably think of many, many Star Wars related games they'd like to play. It's a great time to be a Star Wars fan with new movies, games and merchandise coming out all the time we can't wait to see what we get to play with next.